Old Confidence Inn And Bar Building Demolished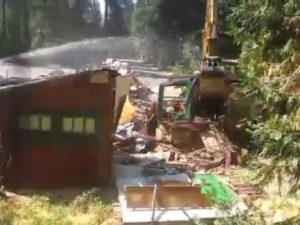 Confidence Inn Demo
Confidence, CA — The burned out Confidence Inn And Bar building off of Highway 108 was taken down today.  The building was severely damaged by a fire early in the morning of September 30, 2013.  The Confidence Inn and Bar property will continue to be cleaned up over the next few days according to Doug Oliver, Tuolumne County Chief Building Officer.
"It was a standard code compliance action brought on by a complaint that the structure was continuing to decay and collapse and there were occupants in the building," Oliver further explains, "We posted a notice and order declaring the building unsafe in 2015 around October. Once we had learned the building was being occupied during this continuing decay we went out and inspected and determined the structure was an immediate risk." Oliver confirms the owner has not contacted the county regarding back taxes owed on the property. He also confirms the structure was a "historic building so there was an opportunity for a someone to come in and renovate it under its current occupancy type."
Over the course of the next two days crews will haul away debris and stabilize the soil for erosion control and cleaning up any broken glass. The goal is to make it to where if the public does enter the property there isn't any hazard.
The county has attempted to sell the property twice for the taxes owed on it, according to Oliver "there has been no legitimate buyer."  The next steps according to Oliver are to complete the abatement process, notify the owner of the cost of all of the work and a time frame to pay the balance. If the balance is not paid the county will go through the process to put a lien on the property attaching the new costs to the unpaid taxes and can attempt to sell the property again to recover all the costs.