Trout Population Plummeting Despite New Melones Water Releases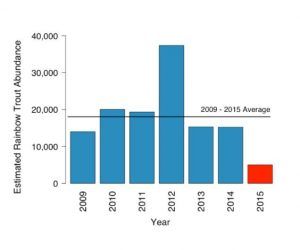 Rainbow Trout Abundance
Sonora, CA — The trout population in the Stanislaus River was down 75% last year when comparing it to the six-year average.
Since 2009 the organization FISHBIO has conducted an annual "trout count" thanks to funding from the Oakdale and South San Joaquin county irrigation districts and Tri-Dam. Biologists physically go into the water to count Rainbow Trout along the Stanislaus River and monitor the fish's abundance over time, and across a range of conditions.
In the summer of 2015 the group found only 5,000 fish in the river. As biologists prepare to swim out and conduct this year's survey, the anticipation is that numbers will be down even further, because river temperatures were higher in 2015 than 2014, which is a negative for the fish.  Among California's major reservoirs, New Melones is currently among the lowest at 23% capacity and 39% of the historical average. The federal government mandates that pulse flows (water releases) be conducted in an attempt to help the salmon population. However, as New Melones gets lower, and the water temperature then increases, the pulse flows have a negative impact on the salmon.
FISHBIO President Doug Demko says, "This drought is a good reminder that sometimes saving water for later release is better for fish than releasing too much at once. We now have evidence that releasing stored water in a way that depletes cold water reserves can significantly reduce rainbow trout abundance."
FISHBIO and the Oakdale Irrigation District have produced a 10-minute video documentary explaining more of their findings. You can view it by clicking the video box in the upper left hand corner.