Many County Employees Will Receive Pay Raise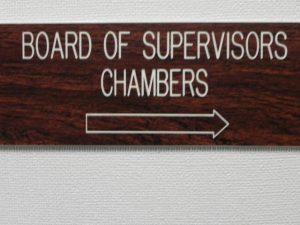 Tuolumne County Board of Supervisors Sign

View Photos
Sonora, CA — The Tuolumne County Supervisors voted to approve pay increases today for many of the rank-and-file county employees and elected officials.
It includes a 2% across the board cost of living adjustment for most employees. In addition, pay will be increased for several positions based on a study performed by the firm Koff & Associates in 2015 on how the salaries for various positions compare with similar type out of county areas. It brings positions that were 20% or more out-of-market down to 19%.
For example, the Assessor/Recorder position will increase from the current $115,565 to $126,245, the Clerk/Auditor/Controller will go from $120,655 to $147,354, the Treasurer/Tax Collector from $105,830 to $126,245, the District Attorney from $131,342 to $144,444 and the Sheriff from $121,050 to $139,488.
The Supervisors noted that rank-and-file county employees, and elected officials, had made sacrifices during the recent recession and this is a step towards restoring pay to more desirable levels.
One group that did not receive a raise is the Board of Supervisors.
The Supervisors directed staff to look into the idea of having an outside group, such as the Grand Jury, make the decision of whether to increase their salaries, rather than the board itself. The initial proposal on the table today would have increased the Supervisors pay from roughly $39,800 up to $45,600. Some on the Board expressed a willingness to consider a smaller increase during the next meeting in two weeks, potentially just approving the 2% cost of living increase.