Cash Arrested Again For Passing Counterfeit $20 Bills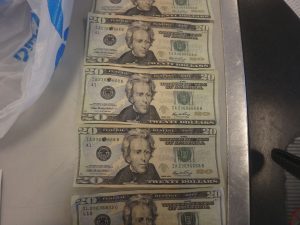 Counterfeit Cash Sonora Police Evidence Photo, Nicole and Bobby Cash Arrest

View Photos
Sonora, CA — Following the re-arrest of a recent crime news maker for additional multiple felonies Sonora Police want to alert businesses and residents to be on the lookout for counterfeit bills, large and small.
According to Sonora Police spokesperson Lt. Turu VanderWiel, it was a Carl's Junior employee who spotted a counterfeit $20 bill used by Nicole Cash, 28, and Bobby Cash, 34, both of Sonora, while attempting to make a milkshake purchase last Friday. After rejecting the transaction, store officials immediately tipped off police who were able to apprehend the two in short order as they attempted to leave the area in a cab. On them police found a bag of men's and women's items that the pair reportedly purchased from the Ross Dress For Less store using the fake cash.
Lt. VanderWiel adds that, after being taken to the Tuolumne County Jail, Nicole Cash was found to be in possession of more counterfeit $20s as well as some heroin. Nicole and Bobby Cash remain in jail on bails of $125,000 and $150,000, respectively; each facing multiple counts of passing counterfeit currency, burglary and felony conspiracy. Nicole was also charged with committing a felony while on bail in connection with past arrests, including last week (reported here); possession of drug paraphernalia and for bringing a controlled substance into the jail.
Catching Up On Counterfeit Cash Trends
Sharing tips for spotting bad bills, Lt. VanderWiel comments, "As technology improves, so do opportunities for crimes like this. People dealing with money transactions in the community, especially businesses, should be extra cautious when receiving large bills. I think that, traditionally, they have employees check for larger bills — but we are seeing counterfeit bills of $5, $20 and all denominations, so people should be on the lookout for them as well."
The Lieutenant adds, "Generally the most obvious [cue] is that the paper will have a different texture than the bills we are used to seeing everyday, but sometimes some criminals will even used 'washed' bills  of one denomination and print a higher denomination on them so that they actually look a little more realistic. So we would ask the business owners and store clerks…to really check into those holograms to make sure they match up with the hologram on the face of the bill."