Butte Fire Meeting To Focus On Tree Removal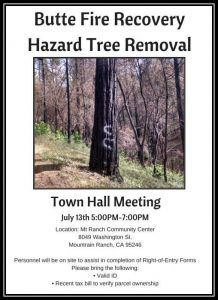 Butte Fire Town Hall Meeting

View Photos
Mountain Ranch, CA — Calaveras County leaders will hold a meeting next week to help inform residents about efforts to remove dead and dying trees in the Butte Fire burn scar.
Calaveras County Public Information Officer Sharon Torrance says, "The purpose of the town hall meeting is to explain the process of removing the burned trees. There has been some resistance, so there will also be an opportunity for people to ask questions and receive assistance in filling out their right of entry permits."
The permits are needed for officials to enter private property.
Around 6,000 trees will likely be removed over the coming months in the Butte Fire burn scar. The trees are either directly impacting public right of ways, or are on private lands and have the potential to fall onto county roads and impact travel.
The town hall meeting will run from 5-7pm, this coming Wednesday, July 13, at the Mountain Ranch Community Center at 8049 Washington Street in Mountain Ranch.