Saturday Event Closes Highway 4 Ebbetts Pass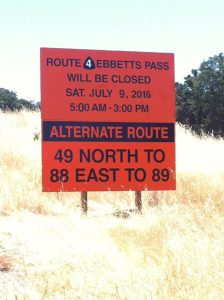 Hwy. 4 Ebbetts Pass closure sign for July 9, 2016

View Photos
San Andreas, CA — Area transportation and safety officials warn that this Saturday, motorists planning to drive over or near Highway 4 Ebbetts Pass will need to plot an alternate travel route, due to a ten-hour closure in that area.
In preparation for and during the annual Death Ride Bicycle Event, Caltrans and the California Highway Patrol (CHP) will close Highway 4 east of Lake Alpine to all traffic beginning at 5 a.m. Saturday. It will remain so — no exceptions — until 3 p.m., according to CHP San Andreas Unit officials. They note that every year their officers have to turn numerous motorists around who ignore the multiple closure warning signs. Due to the large number of participants who take part in the event, the closure is for safety reasons, which is why no vehicles will be allowed to access the closed-off highway section.
The suggested alternate route for motorists from 5 a.m. until 3 p.m. on Saturday, as indicated on the closure signs, is to take Highway 49 North to Highway 88 East, to Highway 89.