Tuolumne Continues Navigating Through Tree Mortality Emergency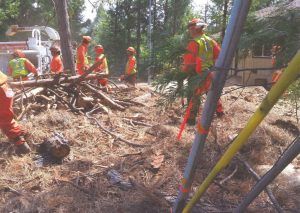 Leisure Pines Project Crews At Work

View Photos
Sonora, CA – Among the latest projects being tackled by the Tuolumne County Tree Mortality Task Force are some geared to helping local residents deal with dead and dying trees on their properties.
Before its unanimous vote Tuesday morning to extend the local emergency, the board heard from OES Coordinator Tracie Riggs. She brought the board up to date on the latest developments involving her office and the local and state-level Tree Mortality Task Force activities, which included a recent site visit from CAL Fire Chief Ken Pimlott to a residential tree removal project still underway in Twain Harte at Leisure Pines, as reported here. Riggs said she was pleased to report that the chief saw and understood, firsthand, the need for more funding to help individual landowners deal with the rapid rise of dead and dying trees on their properties.
Expressing some frustration, Riggs described that her office has only received about half of the over 900 right-of-entry forms that were sent to Mi-Wuk Village residents ahead of planning three major tree removal efforts there. Some of the letters she received back, she said, contained modifications to the wording, which automatically negates the form.
Project Delays Due To Right-of-entry Forms
Board Chair Karl Rodefer weighed in with his thoughts for landowners. "I just want to talk to the public a little bit about these letters of entry that we are asking you to sign to allow us to come on — and fix your problem for you, basically. If you don't sign those and we don't come on that increases your potential liability if that tree should fall and damage something on someone else's property. So you have an opportunity."
Referring to the state-required "legalese" wording on the forms, which has raised suspicions among some landowners Rodefer maintained, "So we some limitations put on us by the state, because it is their money that we are using. Please cooperate with us. We are not in there to create mayhem. We are in there to try and help you."
In addition to a Hazard Mitigation grant application recently submitted by her office through which CAL OES would provide 75 percent funding for residential tree removals with a 25 percent match from property owners, Riggs stated that staff and task force stakeholders were lining up other funding opportunities to provide further financial relief for seniors and residents with disabilities. With support from Chief Pimlott and CAL Fire, she said, it may soon be possible to extend similar assistance for others who verifiably are not able to meet the 25 percent match.
In Other Related News
Riggs also discussed a potential localized CCC-corps recruitment and training program in the works for 18 to 24 year olds to do clean-up work after tree removal projects.
Just before the vote to renew the county's local emergency, District 1 Supervisor Sherri Brennan somberly recalled the distressed forest vistas she viewed while traveling over Sonora Pass over the holiday weekend. "This problem is moving both eastward and expanding exponentially the dead trees and trees that are in the process of dying," she stated. Too, she noted, "I just want to make certain that our publics are very aware of how tinder-dry it is — and what the fire potential is. Be very careful when you are out there – be very conscious of what you are doing, especially if you are building campfires. Be very aware of what is going on around you."
To date an estimated 66 million trees have died across California due to drought and bark beetle infestation.