GOP: The Select Committee's Final Report On Benghazi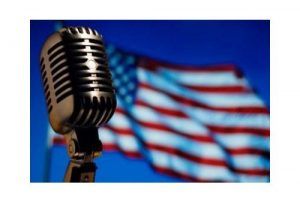 Microphone and US Flag

View Photos
Rep. Trey Gowdy (R-South Carolina) delivered this week's GOP address, talking about the final report from the Benghazi Committee.
Gowdy was Tuesday's KVML "Newsmaker of the Day". Here are his words:
"Today, we can take pride in the fact that brave men and women, through their own ingenuity and determination, were able to achieve independence for our great nation.
This same essential American spirit was on full display in Libya on the night of September 11, 2012, where brave men and women—serving at one of our highest threat foreign outposts in one of America's least secure diplomatic facilities—had to rely on their own ingenuity and determination and one another to survive.
The Select Committee on Benghazi sought from the beginning to tell their story and provide the final, definitive accounting of that fateful night for their families and the American people.
It is because of this investigation, we now know no American forces were ever going to Benghazi the night of the attacks.
And the small group from Tripoli that did go, did so on their own initiative. Because of this investigation, we now know the full story of all the security agents and personnel who made it from Tripoli to Benghazi—who faced assaults, gunfights, ambushes, and ultimately a fatal mortar attack that left two heroic rescuers dead.
And now we know were it not for the extraordinary efforts of a CIA security contractor, we would have lost two more Americans that night.
The real story of Benghazi is truly a tale of two cities. In Benghazi, where our people were valiantly fighting for their lives, and Washington, DC, where administration officials sat on a teleconference and talked for two hours.
Meanwhile, half a world away in Europe, forces that were ready to respond were forced to wait on the transport and to change into and out of uniform four times.
The end result of this previously unknown teleconference was a list of action items, half of which had to do with an online video.
It is sad and telling that instead of a singular focus on rescuing our people in harm's way, key decision-makers in the administration were worried about a video and the appearance that our rescuers could be perceived as invaders because of the clothes they were wearing.
By focusing with dogged determination on uncovering all relevant documents and talking to new eyewitnesses, the Select Committee is now able to tell you, the American people, about these important new facts that fundamentally change what we know about Benghazi.
Because we want to do everything possible to ensure this never happens again—and if it does, that we are better prepared to respond, the majority makes a series of recommendations for the Pentagon, State Department, intelligence community, and Congress.
On behalf of a grateful nation, we honor the service and sacrifice made by Ambassador Chris Stevens, Sean Smith, Glen Doherty, and Tyrone Woods, and all those who served in Benghazi. We recognize them as true American heroes and patriots. And we thank them, and we thank their loved ones. May God bless our citizens and may God bless the United States of America.
The "Newsmaker of the Day" is heard every weekday morning on AM 1450 and FM 102.7 KVML at 6:45, 7:45 and 8:45 AM.