Tweedy Tire Plans Post July 4th Finale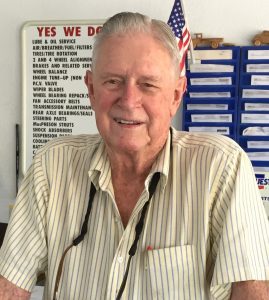 Tweedy tire Owner Don Smyth at the front desk

View Photos
Jamestown, CA — As Mother Lode mainstay for nearly a half-century prepares to bid its goodbye, its owner shares a nostalgic look back.
Motorists traveling through Jamestown almost cannot help but notice Tweedy Tire's landmark sign above Highway 108. Owner Don Smyth, now 86, looks back on nearly a lifetime of memories during which he raised three sons and a daughter with his wife Patricia, who passed away back in 1981. Most of his family, which includes numerous grandchildren and great-grandkids, reside in the Chico area. It was where the Smyths settled before Don was drawn to Sonora by a business opportunity that panned out well.
Explaining, Smyth confides, "The history of Tweedy Tire is actually tied into JS West. In 1940 they built its first satellite branch in Sonora, right where they are today. In addition to their propane and feed…they brought with them from Modesto a General Tire franchise in 1940. In 1957, they sold it to an employee of theirs named Joe Tweedy. In 1967, he wanted to retire — and I was aware of that since I worked for General Tire at the time — I lived and worked in Chico. I contacted Joe, we made a deal, and I bought the shop."
Industry Fleets Helped Business Grow
Retaining the name "Tweedy Tire," Smyth says his operation was virtually the only tire dealer back in those days, describing business as "very good" for many years. "There were a lot of logging trucks that you don't see today. We had all the fleets and did a very big business…had lot of consignments," he notes. Adding that the former asbestos plant in Copperopolis, quite active from the 1960s into the 1980s was a huge account, he says, "We outgrew ourselves, so I knew I needed a larger place."
So Smyth singled out and purchased the property off Highway 108 in Jamestown. "I designed the building to accommodate a truck shop as well as a passenger car auto repair business, and opened for business in October 1989," he states. He adds with quiet pride, "We worked on everything, passenger cars, motor homes, logging and other big trucks – and are still capable to this day. "Anyway, here it is…I've owned and operated Tweedy Tire for 49 years and just to the point where I want to retire."
Smyth's oldest son Steve runs the family operation up in Chico, sharing, "They do quite well — we are retaining that…anything we don't get rid of here will go up there."
Notices, now being sent out to all Tweedy Tire customers, are aimed at squaring up the shop's accounts receivable, Smyth says, as well as selling off some tires at bargain basement prices to help reduce inventory.
A Naturalized Sonoran
Originally hailing from the Bronx area of New York City, Smyth's gentle voice holds barely a trace of that borough's infamous accent. "Sonora was a very good town to do business in, at least when I came here — and a quaint town, of course — I like it and I am going to remain here," he says. "I have seen a lot of changes, big changes…and saw a lot of logging trucks…increase through my early years, although now they are practically extinct."
Asked about what makes him feel good, looking back on so many years of serving the Mother Lode, Smyth replies,"I am very proud of the fact that I can look out of the window of my office to the waiting room and see that we always had at least 50 percent women [customers]. It is because they trust us and like the crew, and I assured them that is the way it was intended to be." Thoughtfully, he continues, parsing no words, "Women by nature, and for good reason, are kind of wary about mechanics — around here they are treated honestly and fairly."
As his shop prepares to wind down in the coming month, Smyth states that he and his family are hoping to find a good tenant in the automotive business who will make good use of the facility. He also plans to spend some well-deserved downtime at his cabin in the hills above Quincy on Bucks Lake. In closing, he says,  "I just want to thank our many customers. We have had a lot of them…we have done business with their grandchildren down here [in Jamestown]. Sonora is a great little town — I like it immensely."