Sonora Mayor Stearn Retires From City Government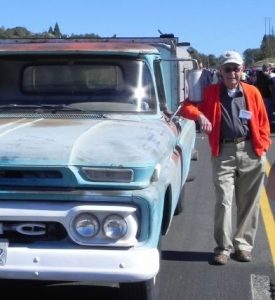 Ron Stearn poses with his familiar truck

View Photos
City of Sonora Mayor Ron Stearn will retire from City Government next week.
Stearn was Thursday's KVML "Newsmaker of the Day".
The Mayor's City Council career spans an unprecedented 52 plus years. Stearn was sworn-in April 1964. Records around the state of California indicate that Stearn has set a record for longest time served on any City Council.
Stearn says it's hard to come to terms with how the City's General Fund budget is up to around $12 million. "When I first got elected in 1964, the whole budget was $178,000," says Stearn. "But, things were different then. You could buy bread for 12 cents a loaf and a quart of milk for 12 cents. Inflation is the hardest thing for me to keep my arms around, and figure out sometimes."
The Mayor first ran for public office at the encouragement of the downtown Merchants Association. He has longtime been an advocate for additional parking in the downtown district. Stearn feels that parking will remain a big issue over the next two years with the gradual implementation of the Vision Sonora plan. It calls from improving mobility and the aesthetics of downtown Sonora, but it could result in a few less parking spots.
Another issues he feels will be important over the next couple of years is dealing with rising employee retirement and benefit expenses.
This Tuesday July 5th will be Stearn's final day. Connie Williams will likely take over as the new Mayor of Sonora.
Why didn't Stearn want to run for re-election?
"I'll be 88 years old on July 22nd and I just don't like walking up all of those stairs at City Hall," said Stearn.
The "Newsmaker of the Day" is heard every weekday morning on AM 1450 and FM 102.7 KVML at 6:45, 7:45 and 8:45 AM.