First Family To Visit Yosemite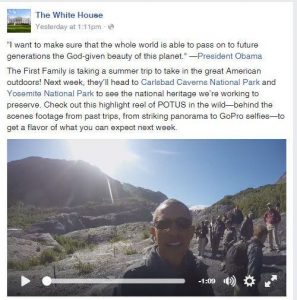 White House Facebook posting announcing the Yosemite visit

View Photos
Yosemite, CA – To take in the "great American outdoors," the White House has announced the President, with family in tow, will take a summer trip that includes heading to Yosemite National park.
The visit is to help celebrate the 100th anniversary of America's National Park system. On the White House's Facebook page, the President posted his plans enthusiastically stating, "I want to make sure that the whole world is able to pass on to future generations the God-given beauty of this planet." The posting also includes this video titled "POTUS in the Wild" noting the 250 million acres and national parks the President has visited and encouraging the public to take in all the beautiful landscapes offered.
The Commander-In-Chief, First Lady and both daughters are expected to make the trek to Yosemite next week sometime between Friday and Saturday.  The First Family will also head to Carlsbad Caverns National Park in New Mexico, which officials there are already touting on their Facebook page exclaiming, "We are so honored and excited to share this news."
Security is expected to be heightened for the visit, but no details have yet been released from Yosemite officials.