Last Weekend To Burn In Mother Lode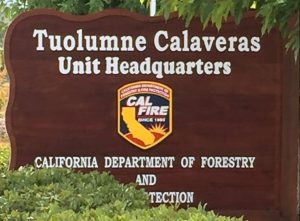 Cal Fire Tuolumne Calaveras Unit HQ sign

View Photos
Sonora, CA – The Tuolumne Calaveras Unit of Cal Fire will begin banning all burning on Monday, June 13 at 8 a.m.
The suspension includes all residential outdoor landscape debris burning including branches and leaves.  "As the days get longer, our outdoor activities will increase. Everyone can help reduce the threat of wildfire by remaining extra vigilant of how activities are being done," urged Unit Chief Josh White.
Cal Fire has already responded to significantly more wildfires than average, according to spokesperson Lindy Shoff. She adds, "Since January 1, 2016, CAL FIRE and firefighters across the state have already responded to over 1,700 wildfires that have burned nearly 30,000 acres. With record-setting drought conditions we must take every step possible to prevent new wildfires from starting."
After the burning ban takes effect, residents are still expected to reach and maintain a minimum of 100 feet of defensible space around their homes. To get rid of the waste, Shoff suggest that the public find alternative sources such as chipping or taking it to a biomass facility.
To find out if it is a burn night over the weekend click here or go to the myMotherlode.com homepage were it is updated daily.