High Court Clears Brown's Prison Reform Plan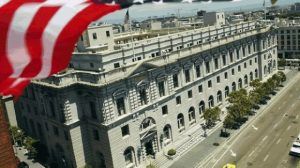 California Supreme Court Building

View Photos
San Francisco, CA – Come November, California voters will have the opportunity to weigh in on Governor Jerry Brown's prison reform proposal, which increases sentencing credits for adult inmates and allows non-violent felons to be eligible for parole earlier.
In a 6-1 ruling on Monday the California Supreme Court rejected a lower court opinion that Governor Brown exceeded his authority by not following the state's legal process for proposed laws when he amended an existing juvenile justice initiative. Back in April, supporters of the measure submitted over a million petition signatures, nearly twice the number required to qualify the governor's changes for the November ballot, though elections officials still have to verify them.
The plaintiff, the California District Attorneys Association, sued to block Brown's attempt to help make the initiative ready in time for the November ballot, arguing that he had completely revised the measure and would have to restart the petition process.
The lower court judge's opinion favored the group, stating that amendments must reasonably relate to the original initiative and that new initiatives require 30 days of public comment. The State Supreme Court disagreed with the earlier judge's argument. According to Associate Justice Carol Corrigan, who issued the opinion for the majority, "There is no question that the changes the proponents made to this initiative measure were, in certain respects, quite extensive. However, that is their right, so long as the changes are reasonably germane to the original theme, purpose, or subject."
Brown has stated that his proposed changes are needed to help keep the inmate population below the level mandated by federal judges. Following Monday's decision, Associated Press shares that an email sent by Dan Newman, a spokesperson for Brown and the initiative, stated, "(Californians) will now have a chance to improve public safety by voting to provide incentives so that more people follow the rules, educate themselves, and turn their lives around. This will reduce recidivism, encourage former criminals to become productive taxpayers, and prevent arbitrary court-ordered release of dangerous criminals."
The plaintiff group issued a statement expressing its disappointment in the ruling, further opining that the decision sets what it calls a dangerous precedent for the initiative process.