Chase Ends In Crash And Arrest Of A Wanted Sonora Man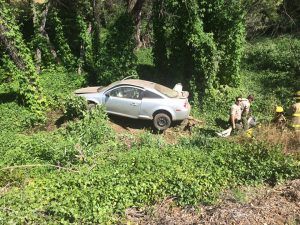 Chase and crash on North Tuolumne Road

View Photos
Tuolumne County, CA — This is not the first time the suspect has led deputies on a chase this year – the latest pursuit ended with a crash on North Tuolumne Road.
As previously reported, 32-year-old Stephen Proper has been wanted by Tuolumne County Sheriff's officials since January, after he escaped deputies' grasps twice. The first time, he fled the scene after deputies raided the Mark Twain Apartments in Sonora resulting in drugs, guns and three arrests.  Just five days later, Proper led deputies on a vehicle and foot chase in the Ridgewood area of east Sonora, once again eluding deputies.
This latest incident began around 3:30 p.m. when Proper ran a red light and took off after a deputy tried to pull the vehicle over, according to sheriff's officials.   At the intersection of North Tuolumne and Cherokee roads Proper lost control of the vehicle and went down an embankment. The lone passenger in the vehicle, 22 year old Brittanie Sanders of Tuolumne, was air-ambulanced from the scene but no further details have been released on her condition. Proper was taken by ambulance to Sonora Regional Medical Center for treatment.
Sanders was also wanted on numerous drug warrants. As previously reported in July of last year, Sanders was arrested along with four other people after Tuolumne Narcotics Team served a search warrant at a home in the 18000 block of Main Street in Tuolumne netting drugs and firearm.