Two Burns To Create Smoky Skies Over Forest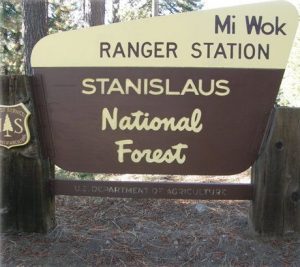 Mi-Wok Ranger Station - Stanislaus National Forest

View Photos
Tuolumne County, CA – A main goal of the fires in the Stanislaus National Forest is to aid in fighting wildfires with a total of 686 acres to be burned starting this month.
The Crandall Underburn along Forest Road 3N24, off Italian Bar Road (Forest Road 2N63) south of Deer Creek on the Mi-Wok Ranger District could be sparked at any time, according to Forest Service spokesperson Rebecca Garcia.  Nearly 140 acres will be ignited to help maintain a fuel-break and reduce the threat of high-intensity wildfires. Garcia says this burn has been a long time coming, "The burn is part of a 400-acre fuel-break. The project began in 2011 and we haven't been able to get out there since last year, January, because of not having the right conditions – the right weather." She adds the burn will continue until the weather no longer permits. The public may see smoke from Highway 108 and surrounding communities.
The China 04 Understory Burn could be sparked next week on the Groveland Ranger District. It is located about 4 miles NE of Greeley Hill, along Forest road 1S29, 2S28, and 2S17. Approximately 546 acres will be burned in increments of 50 acres daily. Those in the area of Smith Station Road may see smoke, especially drifting down from the canyon in the evening and early morning hours. Garcia requested that the public not report the smoke as a wildfire.
Both fires are weather and air quality control permitting.