Governor Appoints Two New Mother Lode Fair Board Directors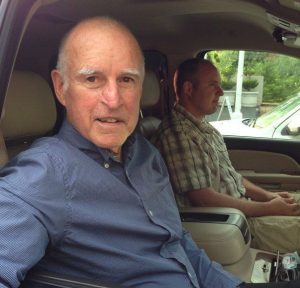 Governor Brown at the Mother Lode Fair: Photo taken by: Tracey Petersen

View Photos
Sonora, CA – Tuesday, Governor Jerry Brown tapped two local residents to fill empty seats on the 29th District Agricultural Association, Mother Lode Fair Board of Directors.
Fair CEO Stacey Dodge, expressing relief at the news, shares, "We are really excited — it looks like, for the first time in quite awhile, that we will have a full board." However, she points out, "We do have one director on our board right not who is awaiting a reappointment, and so we are still anxious to get her back on the board – officially — and that is Marge Kiriluk."
Asked if her office was able to provide any input into the new appointments, Dodge shrugs. "Usually the Governor will call – or the appointment secretary…and ask for some input. He has not done that in a few years." While she admits that is a little bit disappointing, she remains pragmatic and positive, stating, "From the sound of it, these two people are businesspeople — Micki Rucker and Albert Barreno – and we are looking forward to having them on the board."
Meet The New Members
For the past five years, Rucker, 63, a Twain Harte resident, has owned the Funky Junk Consignment Shop. Listed as a Republican, she currently also serves as vice president of the Mi-Wuk Sugar Pine Fire Protection District and is a member both of the Sonora Chamber of Commerce and the Sonora Downtown Merchants Association.
Albert Barreno, 54, a Sonora-based business consultant also listed as a Republican has owned Barreno Enterprises LLC since 2013 and opened a Dicky's BBQ franchise in Merced last year. He sits on the Friends of the Mother Lode Fairgrounds Board of Directors.
The positions are uncompensated and do not require Senate confirmation. They join board members Dan Brown, the interim board president; Missy Marino, interim vice president; Kiriluk; Jan Costa; Peggy Lee; Tom Miller; and Maren Paris.
Moving Forward Past Controversy
As reported here back in April, the board is facing some controversy due to claims of harassment by Dodge and the Fair's Office Manager Michelle O'Keefe from board members Costa and Lee. Costa, Lee and others additionally made accusations about spending and alleged misappropriation of unbudgeted funds.
Just ahead of the the board's rather heated April meeting, one of the directors, Bryan Adcox, resigned without notice or providing a specific reason.
The board is next scheduled to meet this Wednesday at the fairgrounds, beginning at 5:30 p.m.