Video Details Devastating Tree Mortality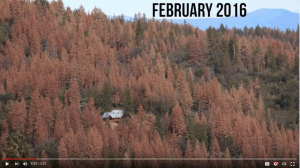 CSAC Tree Mortality Video
Sonora, CA — A new video created by the California State Association of Counties (CSAC) features footage from Tuolumne and surrounding counties.
The video shows devastating overhead views of dead and dying trees spread across the Sierra Nevada. Among the local leaders featured in the three-and-a-half minute long video are Tuolumne County Supervisor Randy Hanvelt and Sierra Resource Management's Mike Albrecht. In addition, it features supervisors from Mariposa and Amador counties, as well as leaders with CAL Fire and the US Forest Service. Citing the risk of wildfire, the video lobbies for the use of state Cap-and-Trade revenue to remove dead and dying trees. You can watch it by clicking the video box in the upper left hand corner.
Overhead flights conducted by the US Forest Service several months ago estimated that California has over 29-million dead trees and the number has been growing.