Sonora Police Chief's Unusual 'Hire' Hits The Streets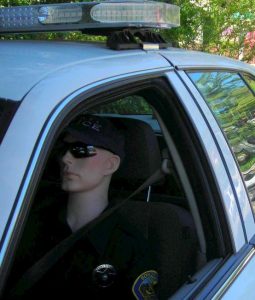 Sonora Police "Officer Andrew Matthews"

View Photos
Sonora, CA — Completely uncomplaining, no matter how many triple shifts he turns, Sonora's newest cop on the beat keeps a stiff upper lip 24/7, says Chief Mark Stinson.
Better still. the new hire, "Officer Andrew Matthews," works for free and cost the department just $68, plus shipping. You see, the officer is a retired police mannequin that went up for auction when his previous duties ended at the US Army Police Museum in Fort Lenard Wood, Missouri. Like so many retirees who move to the Mother Lode, it appears Matthews has found another career and some community purpose.
"As the Chief of Police I never thought I would purchase an officer on eBay, but I actually did," Stinson gloats, admitting that his team is having some fun with its new colleague. Already, Matthews is relieving staffing issues and helping enforcement of moving traffic violations in hot spots around the city where speeding and running through stop signs is on the rise. Chief Stinson confides that the tactic came from earlier in his police career, when his unit would place a uniformed mannequin in a marked police car for a few hours, after which it would be swapped out with a live officer. "It is a clever idea that works," he states simply.
Recalling past "gotcha" moments with motorists Stinson shares with a crafty glint, "Sometimes people see the mannequin or think it is still the mannequin sitting…and then, lo and behold…be surprised then they see the lights come on behind them — and then [the live officer] comes and gives them a ticket." So, if you happen to notice Officer Matthews in his aviator sunglasses parked somewhere in Sonora, he advises, "Remember, sometimes it is an officer…not just a mannequin sitting there."
The Chief adds that Matthews is available for extra monitoring details. " If you are in a neighborhood that has problems with speeders or other…issues, give us a call and we will see if we can make some arrangements to get the officer up there."