Jumping Frogs Compete At The Capitol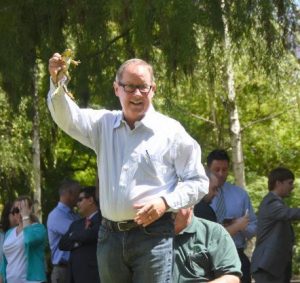 District 8 Senator Tom Berryhill hosted the Capitol Frog Jump in Sacramento

View Photos
Sacramento, CA — One Mother Lode lawmaker hosted the 42nd annual Capitol Frog Jump in Sacramento, while another competed.
The frogs leaped through their paces on the Capitol lawn Wednesday as a warm-up to the Calaveras County Fair and Jumping Frog Jubilee which opened Thursday in Frogtown near Angels Camp. Noting that his frog, "Tastes Like Chicken," aka "TLC," did not fare very well, District 8 Senator Tom Berryhill (R-Twain Harte) cheered on other elected officials, including Assemblymember Frank Bigelow, legislative staffers, and others all hoping to hop into the record books by taking home one of the three coveted trophies.
Here are the results (click here for video of the frogs in action):
Longest Jump —  Assembly Member James Gallagher's frog "Petey" sailed an impressive 12 ft., 1 in.
Shortest Jump —  Danielle Field's frog "Snoop Frogg Jr." at an even 1 ft.
Media Jump —  KFBK's frog "Christopher Ribbit" jumped 4 ft. 5 in.
Berryhill also quipped, "It was a real treat to have Calaveras County Sheriff Rick DiBasilio, who was in town for law enforcement meetings, come by and participate. Unfortunately his frog "Green Bud" had no interest in moving even an inch. Good fun and a lot of laughs on a hot day in Sacramento."
Click here, to view a list of all the jockeys and their frogs' distances.  For more details on the fair, click here.