A Constructed Fish Passage Through Don Pedro?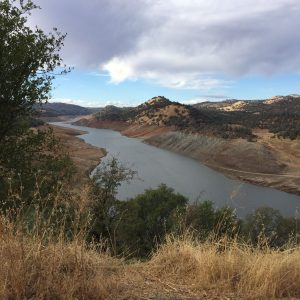 Don Pedro Reservoir

View Photos
La Grange, CA — What — salmon at Lake Don Pedro?
Exploring a possible fish passage at Lake Don Pedro for salmon and other species is one of the conditions that two water districts are facing in their quest to meet a federal mandate.
Back at the end of 2012, the Federal Energy Regulatory Commission (FERC) determined the Modesto and Turlock irrigation districts (MID and TID) would need to obtain a federal hydropower license for a 93-year-old power plant that historically operated as part of their co-owned La Grange Project. Although they fought that decision, they lost.
Under its licensing conditions FERC required the districts to assess and explore options for introducing a constructed fish passage on the Tuolumne River. That decision subsequently unleashed two years worth of feasibility studies and public workshops that will likely continue into 2017, for which details are available here. On Thursday morning, as part of the process, at its offices MID is hosting what will be the fifth in a series of related workshops, beginning at 10.
Attempting to help sketch out the big picture, MID spokesperson Melissa Williams explains, "Providing such a passage is major undertaking for the districts, not to mention the costs involved…there are many questions that need to be answered, which requires a collaborative approach and process."
Who Might Foot Fish Passage Costs
Providing additional background and her district's perspective, Williams adds, "The cost of an upstream and downstream fish passage can exceed $100 million — other projects in other areas…have been of that scope. As both districts are publicly-owned utilities, those costs would be borne by our customers. So we want to take into consideration permitting, design construction, operations maintenance monitoring and evaluation…those costs will all directly impact our customers."
Sharing further details, Williams states, "There is currently little information that exists to know what…fish facilities might be appropriate, or if the habitat above Don Pedro Dam is sufficient enough to support any fish introduction goals. That is why we are continuing to identify, collect and share the information. That is the reason for the workshops and studies."
The districts, as Williams maintains, have always been environmental stewards. "We have done lots of work on the Tuolumne River, but since the target fish species for the fish passage programs do not currently exist in the upper Tuolumne River, there are a lot of questions that need to be asked before decisions are made on whether to construct a fish passage or not. We certainly are encouraging all stakeholders, including recreaters on Lake Don Pedro, to attend the workshops."
As recreation is obviously such a big part of Lake Don Pedro area, certainly, if a fish passage is constructed or moved forward, impacts could possibly depend on where the best location for a fish passage might be determined and the potential scope of the resulting project.
Activities such as whitewater rafting might be affected, according to Williams, as well as fishing, which could be subject to further regulations and restrictions. She cautions, "Any time we have to pass costs on to our customers…recreation costs could be impacted as well. The districts co-own Lake Don Pedro and operate Don Pedro Recreation Agency." While the Feds may still not be completely aware of local district findings that predators are creating an impact on fish, another year and a half of studies and workshops are in the works, according to Williams. Ahead of a final decision, depending on how things go, plans for location and scope of a potential fish movement project would be projected on another timeline.
Ways To Weigh In
"Even though the people in the Sonora area are…not MID or TID [water] customers, we know that they enjoy the Don Pedro Reservoir, and obviously could be impacted by this process that we are going through," states Williams. "So we encourage everyone to attend our [meetings] or follow our process."
The Thursday workshop will discuss and seek approval for 2016's planned field studies; present a progress report on reintroduction goals from a January workshop; and further discuss development of water temperature criteria studies.
An Upper Tuolumne River habitat mapping and macroinvertebrate assessment is one of several studies that, if approved Thursday, will be implemented this year. It would be used to characterize habitat distribution, abundance, and quality in the upper Tuolumne River. Additionally, a hatchery and stocking practices review would evaluate the potential for practices affecting Chinook and steelhead salmon, if introduced into the upper Tuolumne River, above the Don Pedro Project.
A slated upper Tuolumne River instream flow study would evaluate existing aquatic habitat and provide quantifiable metrics of aquatic habitat suitability. A regulatory context for reintroduction review may also further address related issues. Other slated studies, would examine socioeconomic effects as well as potential spawning success, via gravel mapping.
The meeting, scheduled from 10 a.m. until noon at the MID Office (1231 11th Street, Modesto), is open to the public. For more related details, including how the public might attend by dialing in via a telecon number, click here.