State Treasurer To Run For Governor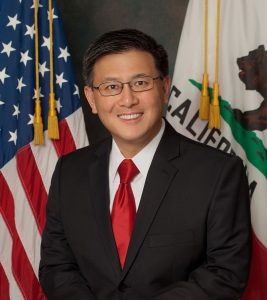 State Treasurer John Chiang

View Photos
Sacramento, CA — Democrat John Chiang has officially tossed his hat into the ring for the 2018 Governor's race.
Even though it is more than two years away, Tuesday Chiang announced he will begin raising money to run for the state's top office. If he is elected he would become California's first Asian governor.
Chiang states, "As your next Governor, I have a blueprint for expanding and renewing the California dream through fixing our crumbling infrastructure, making retirement security our generation's call to arms, and rebuilding California's middle class through better jobs and improved educational opportunities."
Chiang, who is the son of immigrants from Taiwan, was elected state treasurer in 2014. Before that he was the state controller and held a seat on California's Board of Equalization. He was born in New York City but grew up in Chicago.
He joins a growing field of potential Democrats seeking to run, which include Lt. Governor Gavin Newson, who began raising funds more than a year ago and already has a $5.4 million dollar war chest,  former Los Angeles Mayor Antonio Villaraigosa, former eBay executive and now state controller Steve Westly, billionaire climate activist Tom Steyer and current Los Angeles Mayor Eric Garcetti.