DiBasilio Sworn In As Calaveras Sheriff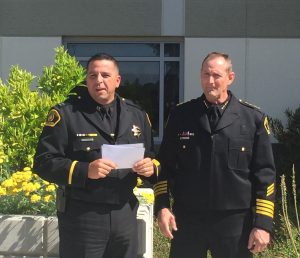 Captain Jim Macedo Swears In Sheriff DiBasilio

View Photos
San Andreas, CA — A swearing in ceremony was held this morning for the new Sheriff of Calaveras County Rick DiBasilio.
It was a low-key event, and Calaveras County officials report that the ceremony was closed to the general public. The formal oath of office, outside the Sheriff's Office, was administered by Captain Jim Macedo, who had been leading the department since the passing of Sheriff Gary Kuntz.
DiBasilio was picked from a group of five finalists in early May to lead the department. DiBasilio was the only internal candidate that applied. On Tuesday the Supervisors made the formal appointment. DiBasilio will serve in the role at least through 2018 when the position will again go before voters.