New Columbia Air Attack Battalion Chief Ready For Business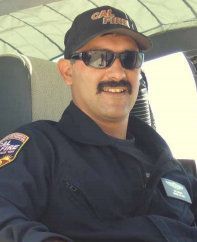 CAL Fire Columbia Air-Attack Battalion Chief Jake Serrano

View Photos
Columbia, CA — Ironically, in tandem with Wednesday's temperatures that rose well into the 80s  — and thoughts turning to wildfire season — two regional fires broke out.
Not so coincidentally, just a handful of hours ahead of those vegetation fires, in neighboring Mariposa and San Joaquin counties, as reported here, Clarke Broadcasting checked in with Columbia Air Attack's brand new Battalion Chief about staging for the season ahead.
Chief Jake Serrano arrived this past Monday from Sonoma Air Attack, as it happens, along with the base's full seasonal complement of aircraft. He replaces former Chief Frank Podesta, who retired after more than 15 years on the job. Chief Serrano reports, "We are fully staffed with the helicopter, two air tankers, and an air attack…they came on May 9th, which is a little early, compared to the rest of the state."
Chief Serrano explains that the local tree mortality emergency is a primary reason for the proactive stance. "There is a large area of timber that has been infected by the beetle kill, so that is a concern, as a lot of the trees are dead or dying." He adds, "Otherwise, we may not have our normal start-up until June – but these last four years, especially with the drought that we have been in, this base and several other bases have been opening early – as early as April, some years."
They Are Ready — Are You?
When asked what he would like the community to be aware of, given the heightened conditions for wildfires ahead, the new chief advises, "If they are not already educated or informed on defensible space — that it a huge item: to clear vegetation away from their structures…that is the big thing –- it helps us if they clear their homes of vegetation." Serrano recommends those requiring any tutoring on how to create and maintain sufficient defensible space around their properties to make use of CAL Fire's online information (Click here for details).
As to plans for accessing the nearby waters of New Melones Reservoir, given its relatively low state, Serrano replies that there are distinct considerations."It is a possibility that we can scoop out of there, especially if the fire is in close proximity." Further clarifying, he adds, "We will…make a judgement call. When we we need the fast [turn] around times, we are going to have to take out of the nearest available water source. If it seems like we have a little bit of time, we can try to not take out of the more scarce water sources." Pilots of the large helicopters, he says, will generally be eyeing any larger bodies they are able to safely access, so long as they are clear and have enough water to fill the water buckets.
As of Wednesday morning, the Columbia airbase had 45,000 gallons of fire retardant on hand to supply CAL Fire's S-2 air tankers. The base, due to the short runway and local elevation, is not able to accommodate the larger air tankers, as Chief Serrano points out. The re-stocking process is to order as needed in increments, he says. "It is pretty seamless, once we start pumping a lot of retardant — when we get the shipment, we mix the batch – we are not waiting to make fire retardant!"