Update: Local Cal Fire Unit Battles Vegetation Fire In San Joaquin County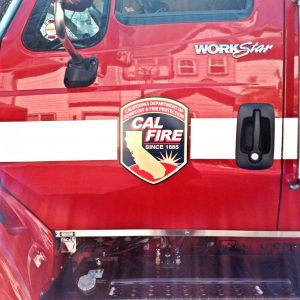 Cal Fire Truck

View Photos
Update at 4:15 p.m.: Cal Fire puts the official acreage of the fire at 4.5.
Update at 4 p.m.: Cal Fire reports the fire has been contained at 7 to 10 acres. The fire started just before 3 p.m. and firefighters were able to put the flames out in just over a half hour. One engine and dozer remain on the scene from the Tuolumne and Calaveras Unit of  Cal Fire. There is no word on what sparked the blaze.
Original post at 3:30 p.m.: Waterloo, CA — Crews from the Tuolumne and Calaveras Unit of Cal Fire are heading to assist in a San Joaquin County grass fire moving across a field.
The flames broke out along North Tully Road near Frasier Road east of Waterloo. Cal Fire spokesperson Lindy Shoff reports, "It's an unconfirmed possible 10-acres of a field. It's a fresh cut field with the fire is spreading at a slow rate. Currently, we're sending three engines, one dozer and a Battalion Chief."
We will bring you more details as soon as they come into the newsroom.