Update: Names Released In Plane Crash Near Groveland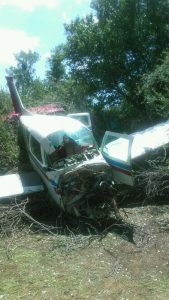 Beechcraft Plane Crashes at Pine Mountain Lake Airport in Groveland

View Photos
Update at 2:10 p.m.:  Tuolumne County Sheriff's Officials have identified the pilot and passenger involved in a plane crash at the Pine Mountain Lake Airport. The pilot is 83-year-old Samuel Gore from Mississippi and his passenger, 62-year-old Robert Bloom is from Florida. According to Sgt. Andrea Benson the 1976 Beechcraft was just bought today.
Update at 1:55 p.m.: The plane is a 1976 fixed wing single engine Beechcraft. Sgt. Andreas Benson reports there is no leakage from the aircraft or fire reported at the scene. The FAA and NTSB will be investigating the accident. 
Original post at 1:45 p.m.:  Groveland, CA — A small plane crashed at the Pine Mountain Lake Airport just after takeoff.
Tuolumne County Sheriff's deputies and the Watch Commander are headed to the scene. Sheriff's officials report a resident in the area alerted them to the plane that went down around 12:15 p.m. The caller stated she saw a plane take off, and moments later it went down just past the runway into some trees near some power lines.  The woman added that she and another person went to the crash site and found the pilot and a passenger walking around the outside of the plane.  Both refused medical attention but one complained of a scratch to his hand, according to Sgt. Andrea Benson.
The Federal Aviation Administration (FAA) and National Transportation Safety Board (NTSB) have been notified of the crash. Sgt. Benson adds that the plane was registered out of Groveland but it expired in 2011. The plane is a total loss. We will update this story as soon as more details come into the newsroom.