Concern Level Remains High Heading Into Fire Season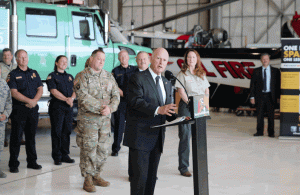 Governor Brown Speaks About Upcoming Fire Season

View Photos
Sacramento, CA — California is gearing up for what could be another very busy summer fire season.
Yesterday Governor Jerry Brown issued a formal proclamation declaring this "Wildfire Awareness Week." At a press conference, Brown urged Californians to start taking steps now to protect themselves and their property from wildfire. "The weather is getting warmer, and things are dry," said the Governor.
CAL Fire Director Ken Pimlott added, "The recent rainfall and precipitation this winter may lead one to believe that the drought is over or that fire conditions have been mitigated. It is not the case. Right now we are in the process of four years, going on five years, of drought. It is going to take a number of years of above normal precipitation to have the vegetation return to a more normal state that is less conducive to extreme wildfire conditions."
Statewide, Pimlott notes that 400 additional firefighters were hired in March to begin the training needed and also carry out fuel management projects. Since January, CAL Fire has responded to 700 wildfires in the state. Increasing the heightened level of concern is the Forest Service's recent findings that an estimated 29-million dead trees are spread across the state resulting from drought and bark beetle infestations.
The Mother Lode has seen several catastrophic fires over just the past few years, including the 2013 Rim Fire and 2015 Butte Fire.