High School Students Learning About Miranda Rights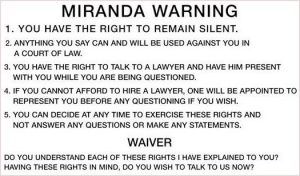 Miranda Warning

View Photos
Sonora, CA — In recognition of National Law Day, several Tuolumne County high school students will witness a mock presentation and learn the history of the Miranda Rights.
2016 marks the 50th anniversary of the one of the best known US Supreme Court rulings, Miranda vs. Arizona. The Miranda Warning was developed in response to the decision and gives suspects being interrogated by the police the right to remain silent and the right to legal representation.
Students today will witness a mock "Suppression of Evidence Motion" where Sheriff Jim Mele will serve as the arresting officer and District Attorney Laura Krieg and Deputy Public Defender Dan Gross will give a dialogue entitled, "Miranda: More than Words."
Students will be given hypothetical scenarios based on real life cases and they will be encouraged to think about the Constitutional rights, and decide how they would rule in the mock case. Presiding Judge Donald Segerstrom, who is also taking part, will then give the ruling. The event is designed to serve as an educational tool, and public forum, to discuss the significance of the Miranda ruling and law enforcement practices.