Hardin Flat Bridge And Sidewalk Projects On Agenda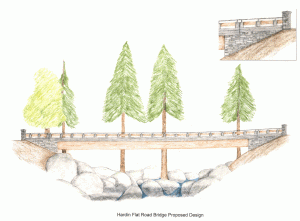 Hardin Flat Bridge

View Photos
Sonora, CA — The Tuolumne County Supervisors will vote on approving plans to replace a bridge damaged by the Rim Fire and decide whether to prepare grant requests to improve pedestrian and bike mobility.
The Hardin Flat Bridge was damaged during the 2013 Rim Fire. Portions of the bridge superstructure, including three of the timber stringers, were burned and can no longer carry load. At Tuesday's meeting the Board of Supervisors will approve plans to replace the bridge by utilizing $2.2-million in federal Highway Bridge Program funds.
In addition, the county will vote whether to prepare grant requests in hopes of receiving Federal Highway Safety Administration grant money for several potential sidewalk and bicycle/pedestrian projects. Potential projects are being looked at in Groveland, Columbia, Jamestown, Racetrack Road and Tuolumne.
The Board will also take action on a Software and License Agreement with Megabyte Systems, Inc. to replace outdated software used by the Assessor-Recorder related to the property tax cycle.
Time is also set aside to hear an update on the county's response to the tree mortality crisis, and reauthorization of the corresponding local State of Emergency Declaration.
Tuesday's meeting starts at 9am in downtown Sonora.