Update: CAL Fire Says Tree Into PG&E Powerline Ignited Butte Fire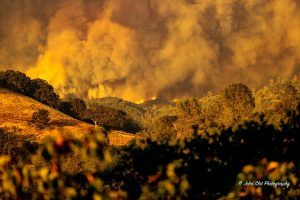 Butte Fire

View Photos
Update: 3:50 p.m.: CAL Fire responds to questions relating to PG&E's cooperation in the fire investigation and its overall accountability in sparking the deadly Butte Fire.
Sharing his agency's perspective, CAL Fire spokesperson Daniel Berlant states, "We work closely with all the utility companies, here in California, including PG&E, to do our best, especially during the winter months on education of the laws that are required of utility companies to maintain clearance around their trees."
During the Butte Fire Berlant allows that PG&E was able to provide the documentation needed on the inspection history, which helped the agency continue its investigation. But, he adds, "It is our responsibility — no matter who the party or business is — that if we determine that somebody is negligent, it is our job to recover taxpayer dollars, and in this case, it is over $90 million that was needed to fight this fire. So it is the responsibility of PG&E to pay back those costs."
Berlant considers the outcome a cautionary reminder. "Whether it is a utility company or a private business, or even residents, we have to take steps to prevent sparking fires, because really, one less spark means one less wildfire," he maintains.
Continuing in that vein Berlant grimly points out, "Throughout the Sierra, and especially across Tuolumne, Calaveras counties — and all the way down the Sierra Nevada — we have over 29 million trees that have died, due to the drought or the bark beetle. No amount of rain is going to bring those trees back. So now, going into our fifth year of drought, even though we have had some rainfall, the conditions are still very high when it comes to wildfire danger, so we all need to be prepared and not become complacent."
CAL Fire remains active in the Butte Fire scar, working to maintain erosion controls and monitoring regrowth. Berlant reports that it has also staffed up and is busily doing brush clearance and other fire prevention-related projects as well as coordinating with local governments, public utilities and landowners to tackle the rapidly escalating tree mortality emergency. As previously reported here, resources are still developing for private landowners requiring tree removal assistance. Berlant advises private landowners to contact their local fire safe council or CAL Fire unit with any questions or requests for advice. In addition to wildfire prevention information and resources, CAL Fire has introduced outreach materials on dealing with dead and dying trees due to the drought and bark beetle infestation. Click here for more details.
Original Post 11:35 a.m.: Calaveras County, CA — Over seven months after it ignited, CAL Fire has released a 30-page report detailing what sparked the deadly Butte Fire.
CAL Fire Spokesperson Daniel Berlant reports that the fire was sparked by a tree that came into contact with a Pacific Gas and Electric Company powerline.
According to CAL Fire, "Investigators were dispatched as part of the initial response to the Butte Fire and immediately began working to determine the origin and cause of the fire.  The ensuing investigation uncovered evidence that contact between a tree and a PG&E powerline near Butte Mountain Road in Amador County sparked the fire on September 9, 2015."
CAL Fire adds, "Under California's Health and Safety Code, CAL Fire has the ability to seek recovery of costs incurred battling wildfires that are determined to be sparked due to negligence or violations of the law.  CAL Fire will seek to recover firefighting costs in excess of $90 million from PG&E."
You can find the full detailed report by clicking here. CAL Fire has forwarded a copy of the final report to the District Attorneys in Calaveras and Amador counties for review.
Two residents lost their lives in the Butte Fire and around 900 structures were destroyed.