The Hwy 4 Wagon Trail Project Gets A 'Giddyup'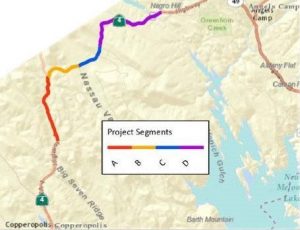 Hwy 4 Wagon Trail Project Map

View Photos
San Andreas, CA –Despite a funding shortfall that might have forced its forward progress to a halt, plans seem back on track for the Mother Lode's Highway 4 Wagon Trail project.
As previously reported here, after hearing that the California Transportation Commission (CTC) planned to red-line $754 million worth of potential highway improvements across the state, the Calaveras Council of Governments (CCOG) helped organize a local delegation.
At CTC's March 24 hearings, local officials made their case for preserving every dollar previously earmarked for the long-anticipated improvements that have spent, literally, decades in community planning stages. Aside from improving access to businesses and recreation, the planned roadwork will improve vehicle safety as well as address deteriorating pavement, sight distance and numerous design issues along the non-engineered road.
Critical Focus On 'Pool Station Curve'
Phase one of the project focuses on improvements to a critical area along a six mile corridor of Highway 4 that runs between east of Pool Station Road to the Appaloosa Road intersection. Estimated costs include design completion this fiscal year at nearly $2.5 million and almost $4.2 million for right-of-way and construction next year.
According to CCOG Executive Director Melissa Eads, CTC staff initially got back with her office earlier this month with plans to cut the Wagon Trail phase one construction phase by $2.8 million, also recommending delaying earlier project development phases in the works. However, she stresses that CTC and Caltrans headquarters remained supportive of the project and were looking to help align its programming schedule to optimize funding opportunities. In addition to state transportation improvement (STIP) funds, Caltrans has conditionally proffered a $10.3 million a state highway operation and protection (SHOPP) pilot grant, which is still subject to final approval from Caltrans headquarters and CTC.
Eads recounts that she contacted the public works department about potentially applying road impact mitigation fee (RIM) funds towards the Highway 4 improvements. The move would further enable the tapping of State Only regional improvement program (RIP) funding, which allows the project to compete for federal monies.
Tapping Local RIM, Federal Funds
As a result, and in order to maintain what CCOG has termed as "a meaningful construction project" for the county, Eads says that her office was able to discuss these strategies with county administration officials and garner support for budgeting the use of local RIM funds in the coming fiscal year. The move further solidifies the project as active from all concerned standpoints.
"I think that this is not just a demonstration of partnership at the local level between the county, the CCOG, the City [of Angels Camp], and our ability to come together to identify a priority project — and really work to see positive results on that project," Eads states happily. "I think, when you really look at the opportunity that CTC staff has provided us with — the State Only funding — then it is a partnership at a whole different level. We have our region, working with Caltrans…the CTC and now potentially working with federal agencies…together, we can really deliver a meaningful project on that corridor – and that is what it really takes."
As for the ability to now continue forward with phase one, Eads shares that, from a staff perspective she is pleased with CTC's recommendations and at the council's May 4 meeting, CCOG staff will be recommending that the council formally accept CTC's recommendations. She shares, "I think that it is going to be good for the project in the long run and I feel good, at the end of the day, knowing that we have a plan to fix the most critical segment of the State Route 4 Corridor, which is that east of Pool Station road curve. From a local perspective, it is a dangerous curve, and we know we have a plan to address it."