Mother Lode Roundup Royalty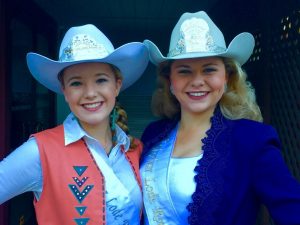 Shyanne Clopton and Karissa Rogers

View Photos
Sonora, CA — The Queen has been crowned, and the Junior Queen, in anticipation of the 2016 Mother Lode Roundup.
The Sonora Opera Hall was packed Sunday evening for the coronation ceremony. Karissa Rogers, a 16-year-old Junior at Sonora High School was named the queen, and Shyanne Clopton, a 15-year-old Freshman also at Sonora High, is the Junior Queen.
Rogers says, "There was a part of me that kept saying, 'oh gosh,' it's not going to happen. But then when they called my name, it was the first time I ever cried tears of joy.  I've known the Posse for 16 years, so I felt so happy."
Rogers says it will be an honor to represent the community at her "hometown rodeo" and she also plans to attend several other rodeos in the months ahead.
This is the first year the Posse implemented the Junior Queen competition. The inaugural winner, Clopton adds, "I'm definitely looking forward to the rodeo, and at the parade being able to see all the little kids running up and down the street, and having a good time."
The Mother Lode Roundup is set for May 7-8. For a complete list of activities click here.