'State Of The Air' Report Provides Fuel For Thought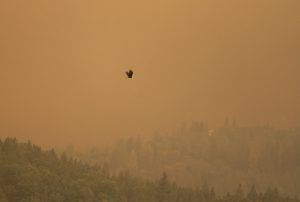 Bald Eagle Flies Through Butte Fire area

View Photos
Sacramento, CA — According to the latest "State of the Air" report, 80 percent of the California counties — including Tuolumne and Calaveras — have air quality conditions that put residents at risk.
The news comes courtesy of the American Lung Association (ALA) State of the Air annual report, released early this morning. ALA rates municipalities across the nation for ozone, short-term particle pollution as well as overall average conditions.
While continuing drought conditions and excessively hot summers as well as wildfires certainly contributed to local air quality issues, the Central Valley and Los Angeles still lead the state for worst conditions for a host of human-related causes, as well as natural reasons, such as topography and weather patterns.
Rural Areas: Reduce Wood Smoke Emissions
Statewide, the government and air pollution control districts are looking at improving air quality through lower and zero emission vehicles; seeking more ways to promote alternative means of transportation; changing over from heating sources like wood to natural gas and propane. Having said that, speakers in Tuesday's ALA press conference duly noted that rural communities such as Tuolumne and Calaveras counties, which rely on woodstoves for heat are more likely candidates to improve local air quality through targeted human efforts towards replacing old woodstoves.
ALA of California gave both Calaveras and Tuolumne counties an F rating for high ozone days over the 2012-2014 grading period. Calaveras received a passing grade for minimal high-particle pollution days but was not able to gather the data to grade Tuolumne County on that. As previously reported here, federal standards for woodstove manufacturers are now ramping up. "EPA updated the standards last year, in 2015 for woodstoves. It last updated them in 1988…the new woodstoves are much cleaner, which will help reduce the burden of air pollution, particularly particulate pollution in communities. Also the new devices are much more efficient so it could be a win-win for a homeowner who is relying on wood heat," shares Paul Billings, ALA senior vice-resident of advocacy.
Overall, the best progress came in the continued reduction of ozone and year-round particle pollution, thanks to cleaner power plants and increased use of cleaner vehicles and engines, which reflect favorably on Clean Air Act efforts. The ALA maintains that continued progress to cleaner air remains crucial to reduce the risk of premature death, asthma attacks and lung cancer.
West Plagued With Article Pollution
Unfortunately, ALA reports that many cities suffered more spikes in short-term particle pollution, particularly in the West, where continuing drought and heat may have increased the dust, grass and wild fires; burning wood as a heat source appears to contribute to the problem in many smaller cities.
Seven of the 25 most-polluted cities in the nation had their highest number of unhealthy days on average ever recorded. Los Angeles, which had its best air quality ever in the 17-year history of the State of the Air report, remains the metropolitan area with the worst ozone pollution. Bakersfield returned to the top of the list for most-polluted for particle pollution, due to worse year-round and short-term exposures. In fact Bakersfield, Visalia– Porterville–Hanford and San Jose–San Francisco–Oakland were among the seven national cities that saw their year-round levels increase since the previous report.
Note: The report examines average year-round and short-term 24-hour particle pollution (PM2.5) levels as well as EPA-reported averages. For both ozone and short-term particle pollution the analysis uses a weighted average, recognizing places with higher levels of pollution.