Tuolumne County 2016 Volunteer Award Winners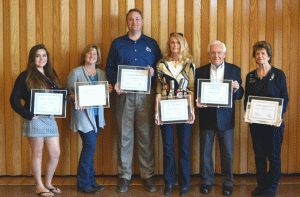 2016 Volunteer Award Winners

View Photos
Sonora, CA — Six winners of the "Volunteers, the Heart of Tuolumne County" were recognized at an annual luncheon held at the Sonora Elks Lodge by Sierra Nonprofit Services. The candidates were nominated by other volunteers in the community and the winners were reviewed and selected by a distinguished panel of local citizens. The luncheon is to recognize quiet heroes of our community who selflessly give their time to building, distributing food, comforting others and raising the funds to get more done.
The "Never Too Young Award" is awarded to a person between the ages of 6 and 18 who sees beyond themselves and works to improve the community. This year the award went to Haley Gragg who was said to have developed skills of leadership, understanding, flexibility, responsibility and reliability in all her involvements over the past four years. She contributes 15-20 hours a week volunteering in a variety of service oriented activities, maintains excellent grades and is involved in school leadership, sports, and special service programs. One of her biggest achievements was being awarded a 4-H All Star for coaching younger 4-H members and completing all her projects. Gragg also helped with the Old Mill Run, the Community Christmas Eve Day Dinner and she works at the Moose Lodge, occasionally helping serve meals and planning projects. Gragg plans to plant trees with the Forest Service this summer in the reforestation program.
The Lifetime Achievement Award honors a lifetime of volunteer service that has positively impacted the community. This year Doni Rosasco won the recognition. For almost 20 years Doni Rosasco has coordinated the "Field Day on the Farm" event for more than 400 third grade students as part of the Ag in the Classroom curriculum. Rosasco says, "Agriculture is all around us, the food we eat, the clothing we wear and nearly everything that touches us throughout the day has a connection to agriculture." The annual "Field Day on the Farm" events gives students an opportunity to see what it takes to bring a meal to the table or put a house over our heads. Each year local farmers and ranchers generously donate their time to provide hands-on-activities such as spinning wool and planting seeds, explaining their business and letting students see crops and livestock up close. As chair of the Field Day event, Rosasco coordinates all of the volunteers, contacts and schedules all the public and private schools and assembles and the follow-up curriculum which is tied directly to the California state standards for science curriculum. She is a leade, in representing Tuolumne County at the Ag in the Classroom Annual Conference, helping to obtain funding through donations by the Tuolumne County Farm Bureau, Calaveras/Tuolumne Cattlewomen, Tuolumne County Cattlemen and by many individuals that support agriculture education.
The Community Excellence Award is awarded to a for-profit business that promotes volunteerism among their employees and supports nonprofits in the community. David Lundt, Vice President of Finance for Blue Mountain Minerals accepted the award on behalf of the company this year. Sierra Nonprofit Services says "Blue Mountain Minerals has gone above and beyond their normal high standard for helping out those in need in our community, and contributes to practically everything be it radio service announcements, employee volunteer hours, a location from which Rotary can store, cut, and distribute firewood for needy residents, rock product donations, or just plain cash! One huge example is the $100,000 Blue Mountain Minerals gave to jump-start the first Habitat for Humanity house in Parrotts Ferry Village. There are literally hundreds of organizations Blue Mountain helps, and they believe in the philosophy to "give where we live." While they have done so for years, the are redoubling and renewing their commitment to giving locally under the leadership of CEO Jeff Redoutey."
The Extra Mile Award was given to Judith Rodan of Sonora Cat Rescue as an individual who has made personal sacrifices to help the community. Sierra Nonprofit Services says "Judith has a passion for community cats and the people who care for them. She has purchased a van at her expense, lined it with plastic, and dedicates hours each week to organize, coordinate and transport 40-80 cats/week to the spay/neuter clinic in Auburn, where she handles each trap or carrier 8 times each and helps in the clinic. Then she drives them back to Sonora so their caregivers can pick them up." She puts in 20-hour days managing everything and the paperwork working to fix the problem of unwanted cats in Tuolumne County by "fixing the problem." She is dedicated to educating the community, stopping abuse, and helping people with their "cat problems." She is also a vital part of the fund-raising efforts for Sonora Cat Rescue, including writing grants and developing a web site.
Mick Grimes was rewarded the Legacy Judges Special Award Volunteering 4-20 hours per week for Twain Harte Community Services District and many others, including the Twain Harte Community Services District, Motherlode Job Training, Amador Tuolumne Community Action Agency, and California State Railroad Museum. Ed Minium spoke about how Grimes has helped; "Over the past few years, the Twain Harte community was hit hard with the Rim Fire, drought, a sewer emergency caused by a geologic event at Twain Harte Lake and tree mortality. [Twain Harte Community Services District] staff operates at full capacity even in times of non-emergency and does not have the budget to hire additional staff, so responding to these types of emergencies has required our staff to work many extra hours for an extended period of time." Since a meeting about a year ago Grimes was said to have "consistently volunteered anywhere from 4-20 hours per week in and administrative assistant role. Minium says, "Because of his help handling the normal day-to-day tasks, our staff has been able to focus more effort on dealing with emergencies. With this extra time, we have been able to successfully communicate to our community, create new emergency response programs (water, sewer and fire), apply for and manage grants (we received about $1.2 million in grants for new water supply and fire prevention), implement projects to make our community more reliable and even construct a new playground to keep the community fun. His service to our District has been invaluable. We are not the only organization Mick serves voluntarily. He is always looking to better our community. He has taught basic computer classes offered to the community through Motherlode Job Training, fixed computers at Amador-Tuolumne Community Action Agency and worked to fix a remote control fire engine/robot that is used to provide fire education to local schools. If there is a community need, Mick does not hesitate to fill it or find someone who can."
The Volunteer's Champion Award for a nonprofit organization that does an outstanding job of supporting and recognizing its volunteers. This year Lynne St. Clair of the Golden Timber Service Unit, Heart of California Girl Scout Council was awarded for their excellent job supporting, appreciating and training their volunteer leaders.
Sierra Nonprofit Services is a non-government organization that exists to help educate, empower and supply resources and tools to both individuals who volunteer their time and organizations or groups that serve and give back to our local community. The group helps local non-profit organizations with everything from how to form a 501c3 to marketing, staff training and matching volunteer with organizations where they would fit best.