Redeeming an Island Paradise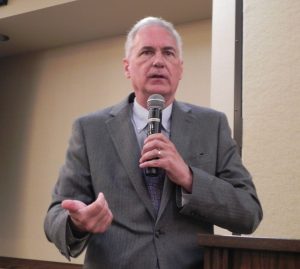 Congressman Tom McClintock

View Photos
Washington D.C. —  Congressman Tom McClintock has strong words about how to handle Puerto Rico's debt and talk of allowing it to declare bankruptcy. Congressman McClintock said "The Puerto Rican economy is in a death spiral as its population flees and new investment is repulsed by crushing taxes and leftist economic policies." McClintock does not favor allowing it to file for bankruptcy and outlines exemptions to manage the situation as detailed in his new blog "Redeeming an Island Paradise" here.
According to the Associate Press on April 5th Puerto Rico's Senate approved a measure to allow the governor to declare a fiscal emergency and declare a moratorium on debt payments. Like all U.S. states and territories, Puerto Rico cannot declare bankruptcy under federal law but states are allowed to let their cities and utilities seek bankruptcy relief, while a 1984 amendment to the nation's federal bankruptcy laws may specifically exclude Puerto Rico, a territory, from doing so. Nearby, the City of Stockton declared bankruptcy in June 2012 and was able to exit bankruptcy in February 2015.
Puerto Rican Gov. Alejandro Garcia Padilla has warned that a debt restructuring measure needs to be approved before Puerto Rico defaults on a $422 million bond payment in May but that is only part of their debt. Congressman McClintock sums up noting Puerto Rico "is now more than $70 billion in debt, overwhelmed by poverty and suffering an unprecedented population exodus of citizens fleeing these policies." The CIA world factbook reports the population of Puerto Rico is 3,598,357 noting population loss began in 2005, and a net loss of 64,000 in 2014, more than double the net loss in 2010 of 26,000. The factbook also states their public debt "rose to 105% of GDP in 2015, about $17,000 per person, or nearly three times the per capita debt of the State of Connecticut, the highest in the US."
A legal case about Puerto Rico's bankruptcy options has been argued all the way to the U.S. Supreme Court. On March 22nd arguments were heard by only seven justices due to Antonin Scalia's position not being filled and because Justice Samuel Alito recused himself due to owning Puerto Rican bonds involved in the case. A decision has not been made yet, the AP reports a Supreme Court ruling that favors Puerto Rico would allow it's utilities and transportation authority to go into bankruptcy restructuring about $20 billion in debt. It could also give the island more negotiating power as it deals with creditors.
The House Committee on Natural Resources canceled yesterday's vote on the issue with Chairman Rob Bishop (R-UT) stating "The Administration is still negotiating on provisions of the legislation, creating uncertainty…" regarding H.R. 4900, the "Puerto Rico Oversight, Management, and Economic Stability Act (PROMESA)." He said "This legislation needs bipartisan support, but Members need time to understand the complexity of the issue and the ramifications of any proposed changes. It is unfair to all Members to force a vote with provisions still being negotiated."
The AP reported House Speaker Paul Ryan said many lawmakers are still learning about the issue and House Republicans will have a meeting today to discuss what should be done about the territory's financial woes. For Congressman McClintock's views read his newest blog "Redeeming an Island Paradise" here. A spokesman for House Democratic Leader Nancy Pelosi said she is still examining the legislation. Pelosi had rejected the previous version, saying it would exert "undue and undemocratic control" over the territory.
The Senate has not yet acted on the issue. Senate Finance Committee Chairman Orrin Hatch said to the AP last week that senators are waiting to see how the House moves forward until they take it up.