Calaveras Buzzing With Ballot Moves For Recall, Marijuana Ban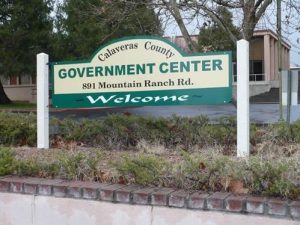 Calaveras County Government Center

View Photos
San Andreas, CA – Calaveras County officials report a hotbed of activity at the government center relating to a potential recall of a supervisor and a possible ballot measure seeking to ban commercial medical and recreational marijuana cultivation.
According to the Clerk-Recorder-Elections Office, individuals behind the move to ban marijuana cultivation in the county today filed a "Notice of Intent to Circulate a Petition" for the purpose of initiating a ballot measure. The signers are listed as Sandra L. Meitrott, Raymond P. Tyler, Vicky Reinke, William J. McManus, Jr., and Deena M. Morris.
Their measure supports a ban on commercial medical and recreational marijuana cultivation, manufacturing, processing, storage and transportation. Officials say that County Counsel now has 15 days to prepare a title and summary for the ballot, although there is not yet any word on whether the filers are trying to make the November ballot. At this point, the proposed measure would require about 3,000 valid supportive signatures for that to happen. From the time they receive the title and summary, the proponents have 180 days to do so.
Another citizens' effort, initiated last Thursday, seeks to circulate a petition supporting a recall election for the seat currently occupied by District 5 Supervisor Steve Kearney, whose term is not up until 2018. The reasons cited in the filing are claims that he supports allowing a proposed hot asphalt plant to set up operations without a conditional use permit and environmental impact studies, and that he helped enable the developer of Olive Orchard Estates to get out of paying to create a left turn lane on Olive Orchard Lane at Highway 26.
Details Behind The Contentions
As previously reported here, it was under question if a conditional permit would be necessary for plant operations under county zoning regulations due to it being located on a property with preexisting related usage operations as a quarry. Irregardless, the proposed plant project by law still requires an environmental review. It was also reported here, with regard to the Olive Orchard Estates development, that county planners recommended that the supervisors accept its final map and roads as complete, although an appeal was filed by some dissenting residents.
Officials say that Kearney was given proof of service the same day and now has seven days to provide a written response to be included in the petition. Elections officials point out, if all the time periods lined out in Elections Code Sections 11005-11386 are completed to the full extent of the law, it is unlikely the recall would make the November 2016 ballot. However if the proponents were able to file the blank petition the following business day after Kearney's formal answer — April 18 — it would shorten the timeline. It would subsequently also take fast pedaling to gather the required 1,200-odd valid supportive signatures from District 5 voters, with listed physical addresses matching those in the county's database. For example, if the supporters were able to produce the necessary number of signatures in 30 days rather than 60, officials say it would give them 39 days to do their part, making a November ballot placement more feasible. The matter additionally requires the supervisors' approval to get onto the ballot. If cleared, the application period for anyone filing to run as a candidate would begin July 18.
A call from Clarke Broadcasting to Supervisor Kearney remained unreturned at publishing time. He released a statement on social media. It follows here…
Kearney Clarifies His Position
"I have been presented with a Notice of Intent to Recall my seat as a Calaveras County Supervisor. This action is being brought by a small group of 'elites' that feel the 'wants and wishes' of a select few should outweigh the 'needs and wishes' of the many in Calaveras County. The basis for their claim is not factual and is completely inaccurate (details below). This group is not new and has a long history of inflicting 'economic terrorism' against the people of Calaveras County which has resulted in keeping Calaveras County one of the poorest in the state, which is a distinction I want to change for the better. During my election it was no secret that I stood for jobs and economic growth for Calaveras County. I welcome the opportunity to reaffirm my commitment to bringing quality growth and economic prosperity to all. I encourage all of you to join me in rejecting the anti-job movement and let's make Calaveras County economically healthy for our children and grandchildren.
The claim(s):
This group is claiming two items/issues.
1) Olive Orchard Estates. The claim is that the Planning Commission and the Supervisors removed the required off-site improvements. What they are not telling you is that the Planning Commission and Supervisors did so only after Caltrans formally removed the requirements to the project.
2) Asphalt Plant. The claim is that the Planning Commission and Supervisors approved the plant without requiring environmental study. This claim is completely untrue. The most recent approval of the Asphalt Plant was a vote to uphold that CEQA is to be completed before the 'Authority to Construct' Permit is issued. Additionally, it's important to point out that the county's own study and expert indicated no significant impacts on this project."