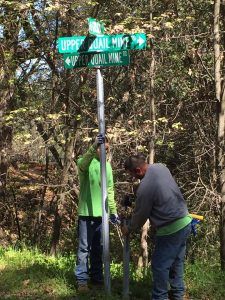 New road signs being installed

View Photos
Bill Hill, CA — Unclear signage piqued the interest of a Tuolumne County Sheriff's Deputy, who, while patrolling an area neighborhood, worried of their safety implications for residents.
While making his rounds in the Big Hill area along the winding Quail Mine Road, Deputy Joe Morton discovered a disturbing dilemma that recently repaved roads had no clear street signs posted.  Noting that this was not only unsafe for law enforcement and emergency crews but also to the public, Morton decided to investigate further. Tuolumne County Sheriff's spokesperson Sgt. Andrea Benson shares, "He spoke to citizens, who relayed that numerous times when residents were in need of emergency services, they have had to give driving directions by phone to fire personnel."
Those dangers caused Deputy Morton to spring into action for a solution.  Although the county does not maintain these roads, he went straight to the top to Sheriff Jim Mele for help. Mele agreed there was a need for visible street signs to ensure proper responses and for safety.  Sgt. Benson explains, "The sheriff's office then received maps of the area and were given training to the Tuolumne County Jail Inmate Work Crew by the county road crews to be able to install the street signs."  (As seen in the pictures in the upper left-hand image box)
Donations from private citizens through the Friends of the Sheriff General Fund paid for the signs.