First Weekend Of April Events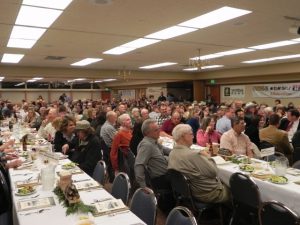 Dinner at the Elks Lodge

View Photos
On the last day of March we look ahead to events happening this weekend.
Saturday is the opening day of Railtown 1897 State Historic Park's excursion train ride season. They will offer a free steam train ride on the historic Sierra No. 3™ all weekend long. On the first day of operations attend the "Early Bird" program that starts at 7 a.m. in the Roundhouse to watch as the crew lights the fire and prepares the locomotive for the day. Many other special activities will be offered throughout the weekend, including tours of the Roundhouse, speeder demos with the velocipede on display, and demonstrations of the historic blacksmith shop. Plus, Park guests will be treated to live music on Saturday and Sunday from 11 a.m. to 2 p.m.
 Capacity is limited so visitors are encouraged to arrive early, tickets are available in person only on a first-come, first-served basis. More Railtown information is here.
This week the Rural Domestic Preparedness Consortium (RDPC) is providing free Certification in Isolation and Quarantine. The class is being held in Yosemite Park. The course is Department of Homeland Security (DHS)-certified for health care personnel in the Yosemite Valley and others interested. Details are here.
On Saturday Jamestown School's 8th graders are hosting a Pancake Breakfast.
All day Saturday at the Junction Shopping Center is the Relay For Life Yard Sale Fundraiser as detailed here. All the Saturday fundraisers are listed here.
Sundays events are here, don't forget the Bark For Life (canine event) listed here, or the Taste for Mentoring event. The one-on-one adult to youth mentoring program serves all of Tuolumne County and will provide samples of desserts from several local restaurants, ticket holders vote for their favorite dessert. Live music a Cake Walk, an Antique Car Show and a silent auction too, all at the Sonora Elks Lodge.
Also as April 15th approaches AARP VITA/TCE is offering free tax preparation for seniors and low income at the Tuolumne Senior Center in Sonora on Wednesdays and Thursdays. The event is listed in the event calendar here.
More April events are in our event calendar.
Next Week: Click on a date for more events coming up

S
M
T
W
T
F
S
3
4
5
6
7
8
9