Calaveras Supes To Tap Public's Help To Hire New Sheriff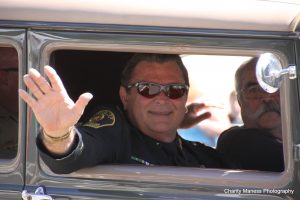 Sheriff Gary Kuntz

View Photos
San Andreas, CA — Ahead of choosing a new Calaveras County Sheriff to replace the late Sheriff Gary Kuntz, whose sudden demise last fall is still being mourned by many, county officials are now seeking citizens' input in the form of interview questions that will be asked during public interviews of the final candidates.
As previously reported here, the Calaveras supervisors are taking the position that the community should play an active role in their process of making an appointment. Under state law, the board is required to make an expedient choice and could not simply leave it to the county election process, since sheriff races are held concurrently with gubernatorial elections; the next one being in 2018.
According to County Human Resources Director Judy Hawkins, the goal is to have a new Sheriff in place well before summer and the process is moving well in pace of it. Currently working with a ranking committee that the supervisors directed to be composed of retired and active sheriffs' officials from similar areas without connections to Calaveras, her department estimates that resume screenings and initial interviews should be completed by the end of March, after which the names of the final three to five candidates will be provided to the supervisors.
Although it is too soon to say for sure, it is quite possible that the public interviews, which will be held during specially-scheduled Board of Supervisors sessions, could be slated as early as the latter part of April, or certainly sometime by May. The county has set April 8 as the deadline for residents to submit the questions they would most like to see asked during the public interviews.
Questions should be emailed directly to askthesheriff@calaverasgov.com, where they will first be reviewed by County Counsel for appropriateness. To avoid redundancies similar queries will subsequently be combined.