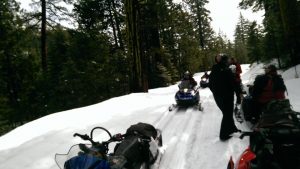 Snowmobilers with rescuers

View Photos
Kennedy Meadows, CA — Rescue crews, including a helicopter flying overhead, helped bring three snowmobilers to safety.
The men, Lonnie Thomas of Sonora, Leroy Delbon and Chuck Lyons of Salida, were stuck in a cabin in Tuolumne County after this weekend's heavy snowfall.  They were not able to maneuver the deep powder and steep inclines on their sleds, according to sheriff's officials, and were stuck at their Kennedy Meadows cabin.  A concerned family member, worried because one of the men has a heart condition, alerted the sheriff's department to the men's plight, prompting the search and rescue team to respond to the scene.  The team was able to get to the cabin by midday Monday, making the 13-mile trek over treacherous terrain on snowmobiles.  All were able to snowmobile out on the packed down trail made by the rescuers on their way into the cabin.
All men made it home safe and sound.  Their pictures are in the upper left-hand image box along with members of Tuolumne County's SAR (Search and Rescue) Team.