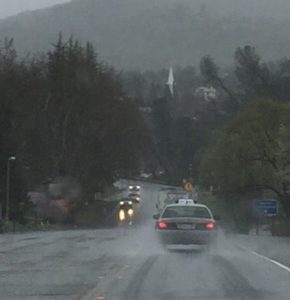 Heavy Rain in Sonora

View Photos
Sonora, CA — The CHP is warning motorists that the drenching rains can make driving conditions hazardous.
With continued down pours expected throughout the weekend, Officer Nick Norton cautions drivers to be alert.  He states, "Hydroplaning will definitely occur with the amount of water that is going to be standing on the roadway if you're traveling too fast and, at that point, you lose control of the vehicle and could end up into ongoing traffic or over the side of the road."
Norton also notes motorists should watch out for flooding roadways, indicating that the puddles could be deeper than they appear.  When in doubt, he recommends turning around.  Additionally, when the rain is falling, make sure to have your headlights on, as that automatically illuminates taillights, making it easier for other motorists to see a vehicle from both the front and back.  For road conditions any time, click here or go to the home page of myMotherlode.com and click on traffic.