Mother Lode Flood Watch, Sierra Nevada Winter Storm Warning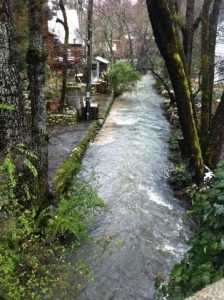 Murphy's Creek

View Photos
The National Weather Service has issued a Flood Watch for Calaveras and Tuolumne Counties below 4,000 feet through Sunday afternoon.
Saturated soils and swollen small creeks and streams from recent rains have primed the area for potential flooding with the approaching storms. These storm systems will bring the potential for widespread nuisance flooding to low lying areas, ponding of water on area roadways and flooding of small creeks and streams. Small creeks will be running high and fast, avoid playing or working near them.
Additionally, a Winter Storm Warning has been issued for the Sierra Nevada from Noon today to 11 AM on Monday.
Snow levels will initially begin around 6,000 feet today and then lower to between 4,000 to 5,000
feet over the weekend.
Total snow accumulations will range from two to fifteen inches today above 6,000 feet, then snow increases again by later Saturday with 2 to 4 feet of accumulation above 5,000 feet by Monday.
Winds of twenty-five to thirty-five mph are expected with gusts up to fifty mph.
A Winter Storm Warning means severe winter weather conditions are expected or occurring. Significant amounts of snow are forecast that will make travel difficult. If you must travel, keep an extra flashlight, food and water in your vehicle in case of an emergency.
A Flood Watch means there is a potential for flooding based on current forecasts. You should monitor later forecasts and be alert for possible flood warnings. Those living in areas prone to flooding should be prepared to take action should flooding develop. Remember: Turn around, don`t drown.