Critical Brush Clearing To Prevent Wildfires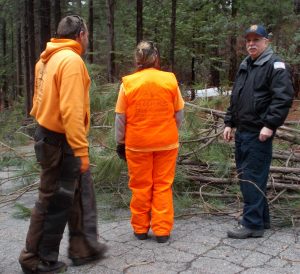 Fire Chief Larry Crabtree of Mi-Wuk Sugar Pine Fire Protection District Stands to the right

View Photos
Mi-Wuk Village, CA — Brush removal will begin next week along roads in the Mi-Wuk and Sugar Pine areas thanks to a state grant – an added bonus a local contractor is doing the job.
A Cal Fire State Responsibility Area Prevention Fund Grant for $190,516 awarded to the Mi-Wuk Sugar Pine Fire Protection District to pay for the clearing.  The district has hired Hope's Tree Service of Groveland to clear vegetation along county rite-of-way roadways within the 1.2 square mile fire district. Fire Chief Larry Crabtree notes, "We're very excited. So, all of that money…is going to go right back into the communities of the county and into our economy locally."
A team of four to five workers will remove dead and dying plant material within ten feet of the roadways. Additionally, the crews will trim brush to about four inches and all road vegetation to fifteen feet above the road surface, according to fire officials. Chief Crabtree says it is critical work, sharing, "It will clear it up for fire prevention to stop the spread of a wildfire. Also, it will clear up the visibility for emergency evacuations and for emergency vehicles going in and out of the area."
The grant will pay for some project supplies, equipment and brush clearing expenses, along with a part-time temporary project manager and full-time temporary site supervisor. The work will start Monday, March 7, with an anticipated completion date in early May.  Fire officials ask motorist to use caution and slow down when workers and equipment are in the area.