Business Expo Planned For Sonora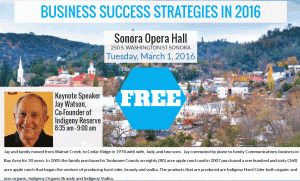 New To Business Expo 2016

View Photos
Sonora, CA — A business expo is coming up next week in Sonora to help both budding and current entrepreneurs.
The "New-To-Business" Expo will be hosted by the City of Sonora and several other partners. It will begin at 8am on Tuesday, March 1st, at the Sonora Opera Hall. The kickoff will be a keynote address by Jay Watson, co-founder of Indigeny Reserve, at 8:35am.
From 9am-11am there will be presentations on topics like bookkeeping basics, websites that work, marketing, insurance, taxes and social media. Then from 11am-11:45am there will be a panel discussion on small business loans, micro-lending and bank lending.
Rachelle Kellogg, Community Development Director for the City of Sonora says, "We want to help businesses be successful here in the city. We're trying to get all the information here locally, so they can get the help they need to make their businesses successful."
Other partners include the Tuolumne County Economic Development Authority, SCORE, California Community Colleges, the Stanislaus Business Alliance, SBA and SBDC. The event is free of charge, but you are encouraged to register ahead of time. Click here to find more information.