Update: Revised High Speed Rail Plan Yields Criticism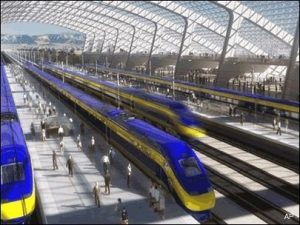 HSR

View Photos
Update at 5 p.m.: Sacramento, CA — Board of Equalization Vice Chair George Runner reacted to the High Speed Rail Authority's 2016 business plan by calling it a desperate attempt by the rail authority to lay as much track as possible to make it difficult to derail the project. He argues that switching construction to the Bay Area amounts to nothing more than kicking the can down the road. Runner charges, "As I warned in 2008, this project is now a far cry from what voters narrowly approved. The project is more than twice as expensive as initially promised and has suffered numerous setbacks and delays. This isn't what Californians expected; they clearly deserve another chance to vote on the issue."
Original Post at 1oam: Sacramento, CA — The state's High Speed Rail Authority will release a revised plan for the bullet train, and it is anticipated to be slightly less expensive.
It is a requirement that the state legislature receive a revised plan update every two years, and the authority is planning to deliver it on Friday. The Associated Press, via the San Jose Mercury News, is reporting that the new cost estimate will be $64-billion, compared to the current $68-billion. In an effort to keep costs in check, the first stretch will now reportedly run from the Central Valley over to San Jose, as opposed to the Central Valley down to Los Angeles. The goal is to have that stretch completed by 2025.
California voters approved Proposition 1A in 2008 which set aside the initial $9.95-billion for the bullet train, however, its popularity has waned in recent years, according to public polls. The project has also faced opposition, including lawsuits, from residents and communities that will be impacted by its construction.