Record Breaking Attendance At Yosemite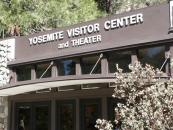 Yosemite Valley Visitor Center and Theater

View Photos
Yosemite, CA – The 2015 visitor numbers hit a new milestone for Yosemite National Park with the biggest attendance booster coming from an unlikely source.
Park officials boast that last year about 4.3 million people passed the park's gates eclipsing the record set in 1996 of 4.2 million.  "It's exciting news," says Park spokesperson Scott Gediman. "The high number is wonderful. It's good for the economy. It's good for the region and we are absolutely thrilled."
Last year was Yosemite's 125th Anniversary. Gediman cites that special event celebrations  and several other draws including  a good economy,  low gas prices and more European visitors as contributing towards reaching  the new record. However, Gediman believes that perhaps the leading factor was oddly the drought. He explains, "In really looking at the numbers, what I find fascinating is that with the drought we saw increases back in the spring…I think a lot of this was due to the fact that there was a drought so there was actually access to some of the higher country. It's my feeling that it was the spring months that put us over the top."
Gediman adds that the summer and December numbers were also up, but just slightly.  Additionally, the Federal "Every Kid in the Park" program also helped bring another 1,200 to 1,400 4th graders into the park with free passes, which Gediman notes as encouraging for future visitor growth.
To view a chart of attendance records dating back three decades, click here.