Rim Fire Reforestation: Create A Better Plan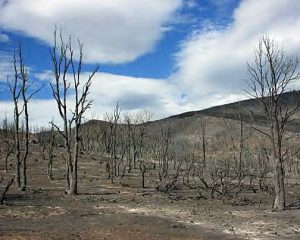 Rim Fire burned trees

View Photos
Sonora, CA — The Tuolumne County Board of Supervisors added strong language to their response to the Stanislaus National Forest's reforestation plan. District 1 Supervisor Sherry Brennan said parts of the plan are; "wholly inadequate and believe that we are only setting ourselves up for a much larger catastrophic fire…"
The plan, released for public review on November 25th is to address 48,000 acres of the burn scar that are within the National Park.
The proposal involves treatments like, deer habitat enhancement, natural regeneration, noxious weed eradication, reforestation and thinning of existing forest floor. Deputy County Administrator Daniel Richardson presented the 73 page response to the Board created by the Tuolumne Natural Resource Committee. The county's response is to point out principles rather than choose a specific plan proposed by the forest service.
The supervisors were in agreement of supporting the Committee's response with a few additions from District 1 Supervisor Sherry Brennan regarding the need for better forest management of the area than before. In detail Brennan said, "We know that we have to remove the dead material before we start any reforestation or restoration effort." She added, "I know that we have a number of limiting factors within the agency primarily their inability to get the dead material off the majority of the landscape and funding. …But I find it wholly inadequate and believe that we are only setting ourselves up for a much larger catastrophic fire out there. So I think as a county we need to encourage them to continue whenever and where ever we can to remove dead material that remains on public lands."
The supervisors were also in support of noting that any herbicides used should not be hazardous to cattle grazing. The supervisors also supported dividing the reforestation area into quarters for experimentation of various forest restoration techniques.
The draft of the Environmental Impact Statement is open for comment for 45 days and will close to comments on January 11. To view the Rim Fire Reforestation DEIS click here.