GOP: We Celebrate The Birth Of Jesus Christ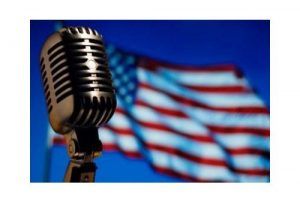 Microphone and US Flag

View Photos
Idaho Sen. Mike Crapo delivered the GOP Address, thanking the men and women who work to keep the country safe at home and abroad.
Crapo was Tuesday's KVML "Newsmaker of the Day". Here are his words:
"I am Mike Crapo and I represent the people of the great state of Idaho in the United States Senate.
This season is a time to gather with loved ones and celebrate the birth of our savior, Jesus Christ. An important part of Christmas is remembering our Father's love. God loved us so very much that He sent His Son to earth so that we may better understand that love.
As we love and care for our families, strive to protect them, and always no matter how grown our children get, long for what is best for them, we can start to grasp the magnitude of God's love and reflect it not only throughout the Christmas season, but also every day. For many families, this time of year is when children learn charity and service to others, and realize that giving to others, is always more important than receiving.
For those of different faiths, including those who choose not to observe a higher power or any religious faith, this season is observed with many different traditions. The season is a reminder of one of our greatest American values ensured by our Constitution: the freedom of religion. Many families spend the holidays volunteering to serve others in our communities. The diversity of our celebration is part of the magic of Christmas. It brings people together in so many different ways, especially in service to others.
We all know people in our communities who are making good things happen. They reach out to those who are hurting, shelter those without and demonstrate examples of selfless service throughout our great nation. Many devote countless hours to lessening the burdens of others. To all those giving Americans serving others, please know that you are setting lasting examples. Acts as seemingly small as caring words or holding a door generate a current of kindness. Thank you, for the love and kindness you share.
As we gather together with our loved ones this Christmas, let us not forget to take time to enjoy the little and the big things more: The joy in the eyes of children; the laughs of friends and family; the snow covered trees; the food on our tables; clean water and heat—and all the many other blessings we have as Americans.
This year, we have witnessed both abroad and at home the real threats to our way of life. Yet in the face of these unspeakable acts of terror, men and women still selflessly volunteer themselves to defend families, neighbors, communities and our nation. Thank you, to all our first responders and law enforcement officers who serve in the face of evil. And to the men and women of our military, many of whom are far from home right now missing their families and the joys of this holiday season, we thank you. Your sacrifice and dedication to your country is a debt we can never fully repay. The men and women of our military routinely give so much of themselves so that the rest of us, as a nation, can remain free. And to the families, the many military families across this country, who set an extra place at their tables in honor of a loved one deployed in the service of our nation, we thank you. You too bear the cost of our freedoms and protection of Americans at home and abroad.
For many, 2015 has been a year of great challenges and impactful events. The terrorist attacks and the continued struggle of millions across America and around the world are a glaring reminder that we cannot take our well-being for granted. As this year draws to a close, I hope that those who have struggled will find optimism in the dawn of a new year. These challenges will unite us and our compassion will match our strength.
We live in a beautiful world with some very dark corners. I pray that more light can be shed into the dark corners throughout this Christmas season and the year ahead and that God's love can be felt and reflected in every corner of our hearts, of our country and the world.
God bless you all."
The "Newsmaker of the Day" is heard every weekday morning on AM 1450 KVML at 6:45, 7:45 and 8:45 AM.