Reprieve For Dead Tree Removal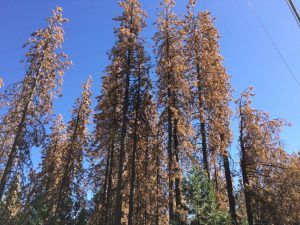 200 trees to be removed due to Bark Beetles Leisure Drive Sugar Pine

View Photos
Sacramento, CA – The combined drought and bark beetles devastation on trees in California has prompted an extension for cutting them down.
Cal Fire reports the latest aerial survey estimated that over 29 million trees have died, up from 3.3 million in 2014, which has created an environment ripe for dangerous and destructive wildfires. In response, the California Board of Forestry and Fire Protection recently voted to extend a drought mortality exemption to the state's tree removal permitting process.
"With massive tree mortality across California, this exemption streamlines the process for landowners who are working to reduce their wildfire risk and safety hazards from falling trees by removing their dead trees," said Helge Eng, Cal Fire's deputy director of resource management.
The original emergency regulation was set to expire on January 12, 2016. This action tacks on an additional 90 days to obtain tree removal permits. Cal Fire spokesperson Daniel Berlant notes that this the best time for cutting, stating, "The winter months typically provide a good time to remove dead trees as bark beetles that are killing so many trees, generally start to go dormant when temperatures dip below 50 degrees.  It's a good opportunity to go out there and remove those dead tree especially before spring and summer come because that's when we see those dead trees become a fire risk." He adds it also helps to fight back against the beetle infestation.
For Cal Fire tips on how to protect trees and property against bark beetles, click here.