Catching Contraband With Enhanced Tools, K9s At SCC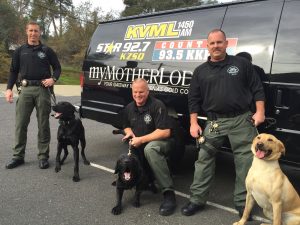 The Sierra Conservation Center (SCC) K9 Unit visits Clarke Broadcasting, Fall 2015 -- left to right, Officer James Lanier with Rooster; Officer Dave Schmittle with River; and Officer Donald Nall with Bo
Jamestown, CA — If you can imagine how handy it would be if your dog could be trained to locate your misplaced cellphone by sniffing it out, figure how prison officials feel as K9s with that ability help them shutdown gang-related phone communications in state prisons.
Dogs with specialized skills, including the ability to sniff for cellphones, various drugs and tobacco, are among the enhanced tools now detecting and deflecting contraband from entry at the Sierra Conservation Center (SCC).
The California Department of Corrections and Rehabilitation (CDCR) introduced a pilot "enhanced drug and contraband interdiction program" back in 2013 at SCC and ten other state prisons that were also identified as having significant issues with contraband inflow. Among the first resources to roll out at the beginning of the program were randomizers and ion scanners; this year, at the end of January, two passive alert canines joined the K9 unit at SCC, bringing the number of its assigned contraband detecting dogs to three. SCC officials, who gauge the success of their screening and confiscation efforts on the current prices among inmates for cellphones, drugs and tobacco, say these costs have gone "through the roof," a sure sign of their relative scarcity at the facility.
According to SCC spokesperson Robert Kelsey, shortly after Governor Jerry Brown appointed Secretary Dr. Jeffrey Beard the head of CDCR back in 2012, Beard instituted the program. "He came from Pennsylvania — where they have a dog program and they had significantly brought down the amount of contraband within their institutions," Kelsey recounts, "so when he took over…he brought a lot of those thoughts and processes to us."
Less Contraband = Less Inmate Violence
Continuing, Kelsey states, "The dog program, the drug interdiction program, all of these things that Secretary Beard has set up are to limit the amount of contraband that comes inside prisons." Contraband inside prisons is money, he says. As Kelsey puts it, "Anything with money becomes a power struggle within the inmate population — someone controls it and someone owes for it."
Inmates who enter into debt agreements for cellphones, drugs or tobacco and cannot pay up become likely assault targets, Kelsey says, which places staff in the crossfire, especially by inmates who may choose to commit an assault on a staff member in order to be placed in into the relative safety of administrative segregation. So, he states, "These programs ultimately are to curb violence within the institutions, to limit the amount of power that the gangs within our institutions have over our inmate population…it is all about limiting…anything that has a monetary value that, in turn could correlate with violence and a black market trade for those items."
California Dept. of Corrections and Rehabilitation Northern Region K9 Sgt. Brian Pyle shares, "We have expanded our [overall K9] program from a few years ago, so we have a lot more dogs out in our prisons with the purpose of getting a whole lot more contraband back." While Belgian Malinois, German, Dutch and even Czech shepherds are popular police dogs, Labrador Retrievers, a less intimidating active breed noted for their intelligence, are turning out to be highly suitable for this particular line of work. As Pyle describes, "We have instigated a passive canine style, which can be used to search our inmates — their physical person." A bonus, he wryly adds, "Should we start searching vehicles sometime down the road, [they are] not going to scratch the vehicles and tear things up."
K9 System More Consistent, Flexible
In recent years, CDCR  has standardized its K9 training throughout its north, central and south regions of the state. Pyle explains that in this region, there are nearly four dozen K9s that can be deployed for random and targeted searches in the state prisons and work camps as well as to provide mutual aid to other regional law enforcement agencies that have limited K9 resources.
After passing an assessment screening for K9 service, Pyle says the dogs, which are either purchased or donated, are assigned a handler and given seven weeks of initial training. Ongoing training continues at a minimum of 16 hours a month; more for special certifications such as for air scans, a personal search a K9 performs without coming into physical contact with the subject. All dogs and their handlers must additionally complete an annual re-certification process. The K9s, according to Pyle, generally serve eight to ten years. Chuckling, he confides, "We have to notify our bosses when we want to retire but the dogs usually tell us when they are ready to hang it up."
The SCC K9 Unit consists of Bo, assigned to Officer Donald Nall, a 21-year vet at SCC; River, partnered with Officer Dave Schmittle, who has 20 years under his service belt at the facility; and Rooster, who works with Officer James Lanier, on board at SCC for just over two years. For images taken of the unit during a recent visit to Clarke Broadcasting offices, click in the upper left image box. To view a demo video taken during their visit, click here.
A Lot To Sniff About
The SCC K9 officers share that 20 arrests have been made at the prison since the end of January, when all three dogs began working in tandem. Kelsey estimates the current prison population around 2,300 inmates, with around 1,700 more who, assigned to low-security fire camps, come and go for various reasons such as medical and other appointments. SCC sees over 10,000 visitors a year, as Kelsey indicates there are about 200 visitors on average each weekend, not counting the additional inmate visits offered on major holidays.
Along with their onsite screening chores, the K9s help patrol the 420-acre facility, sniffing for any contraband drops that might have been made outside the security perimeter, such as in the warehouse and ecology areas. All of the officers are quick to point out that the dogs are part of a multi-layer, integrated team effort; from the entrance gate, where officers are training to be more sensitive to odors and other signs; to the investigative services unit, where focused data gathering and follow up often provides a nexus for case investigations.
Not everybody that the K9 officers come in contact with are up to no good, Officer Nall is quick to note. He comments, "There are a lot of people who are there to visit somebody in their family who made a bad mistake or for whatever reason…and these arrests that we have made at the parking lot…a lot of visitors there thank us for what we are doing…people [are saying] that they feel comfortable and…safe when they come to the prison, because of what we are doing out there."
Other Screening Tools Of Note
Also in use at SCC are randomizers; non-programmable machines that generate a red or green-lit light as each subject passes through. Similar to those used in various airports and entry passport checkpoints around the world, they allow CDCR personnel to conduct bias-free random enhanced contraband searches on inmates, staff and visitors.
These searches are now done using non-intrusive ion scanners that alert within six seconds to traces of methamphetamine, marijuana, heroin, cocaine, and whatever other substances they are programmed to detect. In addition to people searches, these units are used to scan all incoming mail and parcels. Visitors who test positive on an ion scan are given the opportunity to wash their hands before being given a second test. While washing will remove the taint of a substance trace substances will remain intact. Inmates testing positive on a re-test must immediately submit to an unclothed body search and urine test.
Officials acknowledge that while visitors have the right to refuse an ion scanner test, those who do not submit to a search are limited to a non-contact visit. CDCR employees, contractors and volunteers who test positive three times within a 12-month period are subject to termination and/or a permanent ban from the state's prisons; visitors who do so and refuse a body search are suspended from prison visits for a year.
For more information on SCC and related resource links, click here.