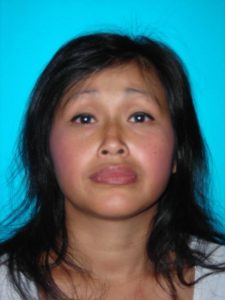 Chanmony Tith

View Photos
Sonora, CA — A central valley woman was arrested in Sonora after trying to cash a forged check and then giving a false identity when confronted by officers.
The Police Department received a call from Bank of America on South Washington Street that 35-year-old Chanmony Tith of Modeso tried to cash an altered, and possibly stolen, cashier's check. An officer located and confronted Tith at a nearby business, and when questioned, she gave a false name and date of birth. It was the same name that she used when trying to cash the check. She claimed that she received the check online and was trying to cash it. However, the police department determined that the check had been stolen out of Antioch.
Tith was arrested and booked into Tuolumne County Jail. She faces charges of felony burglary, felony using another person's ID, felony falsely impersonating another person, misdemeanor giving false information to an officer, and misdemeanor possession of stolen property.